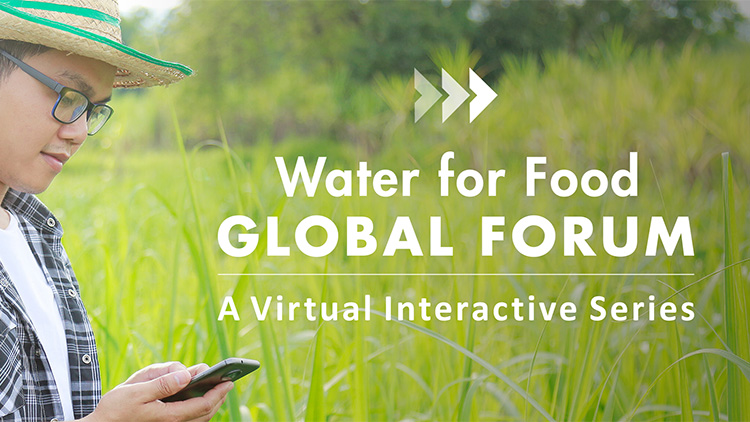 The pandemic continues to restrict international travel for many of the institute's partners and stakeholders, once again causing DWFI to postpone its flagship Water for Food Global Conference. However, the institute plans to capitalize on the success and lessons learned from its past virtual series and host a month-long Water for Food Global Forum in October 2021.

The Forum will convene leading international experts, growers and organizations to focus on achieving global water and food security by integrating knowledge and practice. DWFI will capture the depth and breadth of its global connections and expertise through a variety of free, virtual events. The Forum will provide an opportunity for individuals with diverse areas of expertise and interest to learn about, collaborate and strategize solutions to pressing issues related to water and food, including those exacerbated by the COVID pandemic.

Each week will focus on specific themes and feature both on-demand and live content, including keynotes from industry leaders, roundtables, farm and facility tours, Q&A/discussions, interactive workshops and networking opportunities. The events will serve as a springboard for future conversations.

Theme topics will include:

Food systems and nutrition (October 3-9)
Innovations and entrepreneurship in agriculture and water management (October 10-16)
Water quality and nutrient management (October 17-23)
Climate change and extreme events (October 24-30)

Registered participants will be able to view all on-demand content and two hours of "live" content each week, as well as participate in networking opportunities. The content will be archived online following the Forum for all to access.
Related Articles
The four-part webinar series titled "One Health Approach for Global Healthy Water" provided U.S. and Latin American perspectives to creating healthy, resilient communities by promoting and sustaining the health and well-being of humans, animals, and the environment.
The Water and Health Summit was held June 29-30 in Lincoln with the goal of improving the health of Nebraska.
The Nebraska Water Center (NWC) hosted a virtual mini-conference in August 2020 for and featuring stakeholders around the state.
Search More Articles
Search the 2021 Annual Report for more articles.
COOKIE USAGE:
The University of Nebraska System uses cookies to give you the best online experience. By clicking "I Agree" and/or continuing to use this website without adjusting your browser settings, you accept the use of cookies.