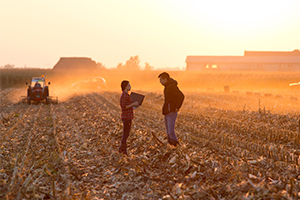 Innovation has always been part of the DWFI mission, because new models for research, business and technology provide pathways to undiscovered future solutions. In the past few years, a DWFI-supported team has worked to aid Midwest agtech entrepreneurship through collaboration with Invest Nebraska and its entrepreneurial incubator, The Combine. In May 2020, the team received a Channel Partner strategic award from the Wells Fargo Innovation Incubation (IN2)/National Renewable Energy Lab (NREL).

With the support from Wells Fargo IN2, the team launched a subproject called "Strengthening Midwest Agtech Entrepreneurship in Response to COVID-19." In collaboration with The Combine, the team worked to understand critical Midwest agtech ecosystem needs, strengthen collaborations and help startups manage COVID-19 disruptions, as well as provide technical and financial support. They surveyed more than 40 startups and key strategic partners, including investors, growers, state economic development representatives and food industry groups, to identify potential mitigation strategies.

Predictably, the study revealed it was a difficult time to start an agtech business. However, some results were surprising. Customer discovery became easier through remote meetings. Public health measures prevented team members from making field visits and in-person meetings, but the online environment proved helpful in discovering what customers really care about.

According to the team, agtech funding and deals reached new highs in 2020 and are further surpassing those numbers in 2021. In addition, the pandemic exposed food and agricultural supply chain issues, and new start-ups are appearing to address those needs.

While some impressive agtech start-ups have come out of Silicon Valley, there is an advantage to starting a business in the Midwest where growers are eager to participate in cutting-edge technologies. Nebraska ag-entrepreneurs are within arm's reach of 8.5 million irrigated acres and the producers who farm them.
Related Articles
After ethanol processing plant AltEn opened in 2015, residents of nearby Mead, Nebraska, noticed odors coming from the plant's byproducts....
Over the past four decades, partners across Nebraska have worked to address rising nitrate levels, and while improvements have been made, levels continue to worsen across large portions of the state.
Solving complex modern irrigation- and water-related problems requires combining the knowledge and expertise of a wide variety of specialists.
Search More Articles
Search the 2021 Annual Report for more articles.
COOKIE USAGE:
The University of Nebraska System uses cookies to give you the best online experience. By clicking "I Agree" and/or continuing to use this website without adjusting your browser settings, you accept the use of cookies.