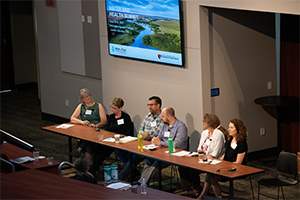 The Water and Health Summit was held June 29-30 in Lincoln with the goal of improving the health of Nebraska. The in-person event brought together leaders in health and water to clarify issues in Nebraska, define obstacles to key solutions and operationalize plans. One outcome of the Summit was to build a community of practice linking health professionals to those doing work in water resources and agriculture. Organizers also plan to produce a white paper and policy brief on the challenges and solutions identified, with next steps listed for each partner and a final presentation to policymakers.

Invited participants included experts from DWFI, the University of Nebraska Medical Center (UNMC) and the University of Nebraska's Institute of Agriculture and Natural Resources (IANR), as well as Natural Resources Districts managers, physicians, donors, government entities, growers and others.

The Summit was organized by the Water, Climate and Health Program, a joint initiative of the UNMC College of Public Health, DWFI, and IANR as the result of a gift to the University of Nebraska Foundation from the Claire M. Hubbard Foundation.

View recordings of each presentation
Related Articles
The four-part webinar series titled "One Health Approach for Global Healthy Water" provided U.S. and Latin American perspectives to creating healthy, resilient communities by promoting and sustaining the health and well-being of humans, animals, and the environment.
The Nebraska Water Center (NWC) hosted a virtual mini-conference in August 2020 for and featuring stakeholders around the state.
Like many others, DWFI adjusted its programming and outreach in 2020 and 2021 due to the COVID-19 pandemic.
Search More Articles
Search the 2021 Annual Report for more articles.
COOKIE USAGE:
The University of Nebraska System uses cookies to give you the best online experience. By clicking "I Agree" and/or continuing to use this website without adjusting your browser settings, you accept the use of cookies.