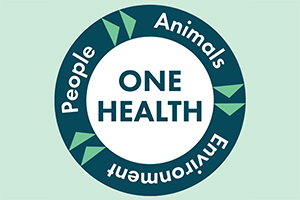 The four-part webinar series titled "One Health Approach for Global Healthy Water" provided U.S. and Latin American perspectives to creating healthy, resilient communities by promoting and sustaining the health and well-being of humans, animals, and the environment. The series, held in February, was a collaboration between DWFI, the Universidade Federal do Paraná (UFPR), and Nebraska One Health and brought together animal and human healthcare professionals, lawyers and engineers under one roof to discuss critical and relevant One Health topics with experts in the field. Six-hundred registered for a session and more than 250 participants joined live.

The One Health Seminar Series discussed the collaboration of human and animal science, environmental science, policy and law to advance science and improve overall community health. Emerging diseases such as Covid, Malaria, Avian Influenza, Ebola and Zika have highlighted the importance of collaborative One Health efforts between the medical and other professions.


Focuses of the series included:
Aligning education and communication efforts
Creating and enhancing multidisciplinary community partnerships
Promoting One Health principles
The webinar recordings are available online.
Climate Change, Water, and One Health
Concepts and Healthy Water for a Changing World
The future of water uses and conservation in a changing World
Water and Diseases
Related Articles
The Water and Health Summit was held June 29-30 in Lincoln with the goal of improving the health of Nebraska.
The Nebraska Water Center (NWC) hosted a virtual mini-conference in August 2020 for and featuring stakeholders around the state.
Like many others, DWFI adjusted its programming and outreach in 2020 and 2021 due to the COVID-19 pandemic.
Search More Articles
Search the 2021 Annual Report for more articles.
COOKIE USAGE:
The University of Nebraska System uses cookies to give you the best online experience. By clicking "I Agree" and/or continuing to use this website without adjusting your browser settings, you accept the use of cookies.