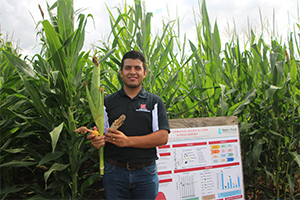 When Nebraskan corn growers reported concerning levels of corn ear abnormalities in 2016, the industry was eager to find the cause. Why were new abnormalities suddenly surfacing beneath the lush green leaves of one of the state's largest economic contributors—reportedly also in cornfields from the Texas Panhandle to eastern Colorado and east through Iowa and Illinois? And just how much crop was being affected?

To find answers, DWFI-supported researchers at the University of Nebraska began a combination of field and greenhouse research, working with growers and seed industry partners to identify and isolate causal factors and mitigate their impact.

Doctoral candidate and DWFI supported student Osler Ortez, and his advisors, Roger Elmore, DWFI Faculty Fellow and Emeritus Professor, UNL Agronomy and Horticulture; and Justin McMechan, Assistant Professor, UNL Entomology; initially suspected three causes: weather-related stress, hybrid genetics and management. Five years later, their hypothesis has proven correct. The team estimates yield losses of about 65 percent for Nebraska growers during the worst outbreaks of 2016.

The program is ending this year and Ortez is completing his Ph.D., with research findings submitted to Agronomy Journal. Corn ear abnormalities are expected to continue in some hybrids and environments—no hybrid is perfect. But the issue has been less severe in recent years, partly due to a deeper understanding of corn growth and improved breeding that this research produced.

Seed companies now know which hybrids are susceptible (often the highest producing breeds) and can work on future mitigation with hybrids more resilient to wildly varying weather and management factors. In the meantime, Elmore said, if farmers are aware of the shortcomings and ensure the hybrids are managed well, it will go a long way toward successful outcomes.
Related Articles
Each year, DWFI supports students doing research across the University of Nebraska related to water and food security.
DWFI hosted several events to support and share the important research of students working toward food and water security with financial and mentoring support from the institute.
Search More Articles
Search the 2021 Annual Report for more articles.
COOKIE USAGE:
The University of Nebraska System uses cookies to give you the best online experience. By clicking "I Agree" and/or continuing to use this website without adjusting your browser settings, you accept the use of cookies.