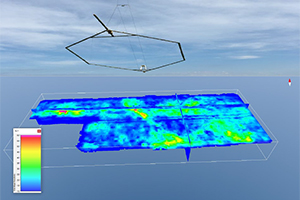 The spider web of glacially fed aquifers in the U.S., known as "Quaternary aquifers," supply five percent of U.S. drinking water and most of the nation's irrigation, but they are a mystery. Aquifer geology is too variable to map through common methods such as drilling, so scientists don't know how, where or how closely aquifers and streams in the intricate web connect.

Groundwater irrigation often runs streams and domestic wells dry, because growers and water managers can't determine which wells are connected to which aquifers or which aquifers are connected to which streams. If they knew this, they could make more sustainable water-use decisions.

We are much closer to solving the mystery thanks to longstanding research funded by DWFI and the Nebraska Department of Natural Resources, with cooperation from the University of Nebraska–Lincoln (UNL) Conservation and Survey Division and Nebraska's Natural Resources Districts (NRDs).

DWFI-supported graduate student Nafyad Kawo and supervising UNL School of Natural Resources assistant professor and DWFI Faculty Fellow Jesse Korus are developing software tools to identify aquifer size, shape, volume and connections to each other. These innovative aquifer management tools will help farmers and land managers better understand how much water is available for irrigation without depleting the resource.

The research could greatly improve groundwater management in intensely irrigated Nebraska, so it is attracting a lot of attention. Kawo and Korus presented their groundbreaking findings at three conferences this year, with a fourth scheduled for December. They have attracted new project participants to support the mutually beneficial goals, including staff from Lower Platte North, Upper Elkhorn and Lower Loup NRDs.
Related Articles
Each year, DWFI supports students doing research across the University of Nebraska related to water and food security.
DWFI hosted several events to support and share the important research of students working toward food and water security with financial and mentoring support from the institute.
Search More Articles
Search the 2021 Annual Report for more articles.
COOKIE USAGE:
The University of Nebraska System uses cookies to give you the best online experience. By clicking "I Agree" and/or continuing to use this website without adjusting your browser settings, you accept the use of cookies.