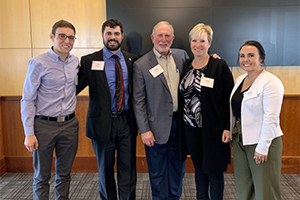 In 2016, the Robert B. Daugherty Foundation challenged the University of Nebraska (NU) Foundation to create $1.5 million in new endowed funds to support students "engaged in the mission and goals" of DWFI. If the challenge was met, matching funds would be earned. In the last fiscal year, the challenge was completed—with, at the time of this writing, more than $120,000 in annually generated income already supporting the work of two cohorts of students.

In the past five years, DWFI has established eight endowment funds (shown in the list below) that will produce earned dollars for student research in the coming years. During the 2019-2021 fiscal years, proceeds of the endowments and the matching funds have supported student research ranging from mitigating human exposure to microbial hazards to research models driving an educational video game.

Some of the funds are so new they haven't begun generating income for research yet. As the years progress, the $120,000 annual figure will grow to support even more students' work to help the institute achieve its goals.

Endowment Funds and Dates Established:
Robert and Karla Baltzell Student Innovator Fund – December 28, 2016
Ivanhoe Foundation Daugherty Water for Food Global Institute Student Support Fund – June 19, 2018
Exploring New Directions with DWFI and Public Health Fund; December 18, 2018
Claire M. Hubbard Graduate/Professional Student Fellowship in Water, Climate, and Health; May 15, 2020
Rachel M. Sandy Memorial Water & Agriculture Student Support Fund; July 21, 2020
Todd Steffes Memorial Student Support Fund; January 14, 2021
Dr. Kathleen V. Green Gardner Agronomy and Horticulture Graduate Student Support Fund; March 31, 2021
DWFI Student Support Endowment Fund; June 30, 2021
Related Articles
Peter G. McCornick, who has led the Daugherty Water for Food Global Institute as executive director since 2016, has been reappointed for a second five-year term.
As DWFI's reputation and expertise in effective water management grows, so do opportunities to make a difference in communities both local and abroad.
Search More Articles
Search the 2021 Annual Report for more articles.
COOKIE USAGE:
The University of Nebraska System uses cookies to give you the best online experience. By clicking "I Agree" and/or continuing to use this website without adjusting your browser settings, you accept the use of cookies.