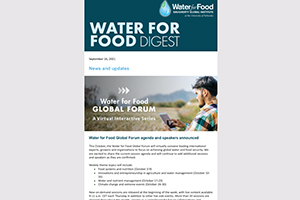 The monthly Water for Food Digest e-newsletter is an important communication tool for reaching stakeholders with current news and events related to its work. DWFI launched the e-newsletter in late 2013 with fewer than 300 subscribers. Since then, the institute has increased its readership by promoting the newsletter at its events and inviting new partners and collaborators to subscribe.

This past fiscal year, the Digest readership has grown from 2,258 subscribers to more than 2,712 — an increase of more than 20 percent. Not only is DWFI reaching more people with its communication, those people are also engaged in its content. The Digest has an average open rate of 41 percent, meaning almost half of those who received the email actually opened it. This is an impressive number, especially compared to the average industry-wide open rate of just 20 percent. DWFI's stakeholders trust the Digest to include interesting and timely information that is relevant to our shared mission of improving water and food security.

Digest Archive
Sign up for the Digest
Related Articles
The DWFI website continues to be a hub for institute updates and information, especially during the pandemic when many are engaging online.
DWFI works to ensure global food security without compromising the use of water to meet other essential human and environmental needs.
Search More Articles
Search the 2021 Annual Report for more articles.
COOKIE USAGE:
The University of Nebraska System uses cookies to give you the best online experience. By clicking "I Agree" and/or continuing to use this website without adjusting your browser settings, you accept the use of cookies.