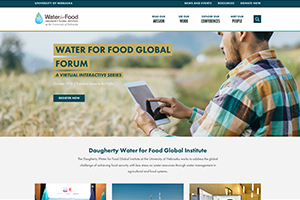 The DWFI website continues to be a hub for institute updates and information, especially during the pandemic when many are engaging online. More than 23,000 users visited the website over the past fiscal year, accounting for more than 66,000 page visits — nearly 89% of these visits from those who had not viewed the DWFI website in the past. The news section of the website saw a 24% increase in page views over the prior year.

Spikes in visits coincided with session dates from the fall Water for Food Global Webinar Series, showing the series' effectiveness in bringing visitors to the website to learn more about the series and the institute. Another popular web page was DWFI's 10-year and FY2020 annual report, which garnered more than 2,500 total pageviews.

The large amount of online content provided by the institute had an extremely positive effect on its online reach. Overall, DWFI had more than 6,000 registrants for webinars offered in FY2021, with almost 2,500 of those attending live.

Sessions from the Global Webinar Series were archived on YouTube and views reached nearly 4,000. Overall views of videos on DWFI's youtube channel reached more than 14,000 — an increase of 47% over the previous fiscal year. Likewise, watch time increased by 77 percent with total watch time reaching almost 1,000 hours. The channel also gained 178 new subscribers who are now notified when a new video is posted by the institute.

DWFI's social media presence on Twitter, Facebook, LinkedIn and Instagram engages the institute's audience from around the world. The institute nearly doubled its engagement on Twitter, with the total number of interactions (retweets, replies, and likes) received for tweets increasing from 1,150 to 2,100. Engagement on Instagram grew by more than 40% and on Facebook by 20%. The largest increases in followers were on LinkedIn and Instagram, with increases of 34% and 23% respectively over the previous fiscal year.
Related Articles
The monthly Water for Food Digest e-newsletter is an important communication tool for reaching stakeholders with current news and events related to its work.
DWFI works to ensure global food security without compromising the use of water to meet other essential human and environmental needs.
Search More Articles
Search the 2021 Annual Report for more articles.
COOKIE USAGE:
The University of Nebraska System uses cookies to give you the best online experience. By clicking "I Agree" and/or continuing to use this website without adjusting your browser settings, you accept the use of cookies.