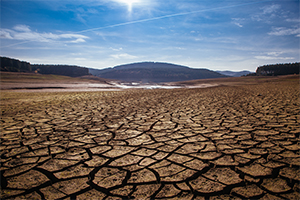 Increasingly frequent drought events pose a high risk to agricultural producers in the U.S. and other farming areas around the world. The need for a better understanding of how to manage water resources to help mitigate drought and other impacts of climate change has spawned a new era of water policy. DWFI, with many partners, is helping advance drought-focused water use strategies through economic policy analysis. In October 2020, DWFI launched a new multi-stakeholder team to develop economic and policy analysis tools to help U.S. agricultural producers.

The team members are from three organizations within the University of Nebraska System: DWFI, the National Drought Mitigation Center (NDMC) and the Department of Agricultural Economics. Each organization is equipped with different expertise, tools, data and audiences. The collaborative work, supported by the United States Department of Agriculture (USDA) and DWFI, has led to an exciting, collaborative opportunity to research and develop economic tools to generate new insights. The initiative has also created internship opportunities for students, increasing their knowledge and skills through hands-on research analysis.

According to Renata Rimsaite, DWFI water markets program manager, organizations in Nebraska and across the U.S. are reaching out to the group for opinions, conversations about water policy issues and future opportunities. Through engagement with stakeholders, the team is learning how different agricultural groups relate to key issues in water and drought management. The researchers have created a platform to showcase local and regional innovation to broader audiences. In April 2021, the team organized an interactive webinar and workshop, where speakers representing the Platte River Recovery Implementation Program were able to share their experience in using incentives with agricultural producers and other water stakeholders to achieve the program's water management goals.

During the last fiscal year, the team also published a research article showing that irrigation can add significant economic value to farmers. This insight applies even in regions where production is predominantly rainfed, which, given the climate change predictions, is especially important to water and drought policymakers, growers and the agriculture industry. The team has also released numerous multimedia products designed to make its research outputs easily understood across different stakeholder groups.

Next year, the team will continue engaging with stakeholders, developing partnerships and analyzing economic and hydrologic impacts of different ag water management policies, including water markets. They plan to share their findings through new peer-reviewed articles, reports and public multimedia products, in-person events, podcasts and virtual workshops.
Related Articles
When it comes to food and water security, in addition to building large centrally managed irrigation infrastructure projects, it's important to help smallholder farmers make decisions on personal investments in irrigation, including the design, purchase, and installation of irrigation systems....
As technology advances, it has become increasingly clear how agricultural water management tools developed by Nebraska researchers and others around the world can help create powerful synergistic systems to support producers....
In 2020, UNL and DWFI researchers received support to collaborate with the International Fund for Agricultural Development (IFAD) on a multi-country agricultural entrepreneurship project in sub-Saharan Africa. But COVID-19 had locked down the world, including travel, so team members that were recruited for the IFAD project began by working to understand how small agribusiness entrepreneurs were affected by the pandemic.
Search More Articles
Search the 2021 Annual Report for more articles.
COOKIE USAGE:
The University of Nebraska System uses cookies to give you the best online experience. By clicking "I Agree" and/or continuing to use this website without adjusting your browser settings, you accept the use of cookies.