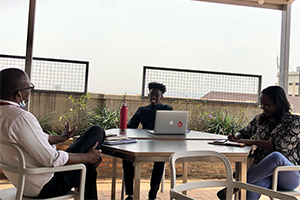 In 2020, UNL and DWFI researchers received support to collaborate with the International Fund for Agricultural Development (IFAD) on a multi-country agricultural entrepreneurship project in sub-Saharan Africa. But COVID-19 had locked down the world, including travel, so team members that were recruited for the IFAD project began by working to understand how small agribusiness entrepreneurs were affected by the pandemic.

Last August, using an innovative research approach drawing in part from business interview models, the researchers interviewed farmers and related businesses.

The new research method shed light not only on smallholder farmers at the heart of the original project but an ecosystem of related entrepreneurs and stakeholders ranging from equipment manufacturers and distributors to banks, government offices and reporting institutions.

This work allowed the Rwanda team to expand and strengthen its professional network across agribusiness supply chains in spite of COVID-19. It is a network that will be accessible for the IFAD project and future research and business opportunities, as well. In addition to providing valuable information for the next program phase, the interviews allowed the team to test engagement strategies and provided important experience in teamwork, communications and interviewing for individual team members. The lessons learned in this unexpected way also can be applied to other businesses and regions.

Thanks to COVID-19, Rwanda stakeholders now know how to successfully connect through social media—and have begun working with one another in new ways, with networks and relationships that will remain even after lockdowns are lifted. One entrepreneur struggling to find a new business model, for example, connected with women entrepreneurs struggling to sell product. He began selling their wares on his own online platform.
Related Articles
When it comes to food and water security, in addition to building large centrally managed irrigation infrastructure projects, it's important to help smallholder farmers make decisions on personal investments in irrigation, including the design, purchase, and installation of irrigation systems....
Increasingly frequent drought events pose a high risk to agricultural producers in the U.S. and other farming areas around the world. The need for a better understanding of how to manage water resources to help mitigate drought and other impacts of climate change has spawned a new era of water policy....
As technology advances, it has become increasingly clear how agricultural water management tools developed by Nebraska researchers and others around the world can help create powerful synergistic systems to support producers....
Search More Articles
Search the 2021 Annual Report for more articles.
COOKIE USAGE:
The University of Nebraska System uses cookies to give you the best online experience. By clicking "I Agree" and/or continuing to use this website without adjusting your browser settings, you accept the use of cookies.