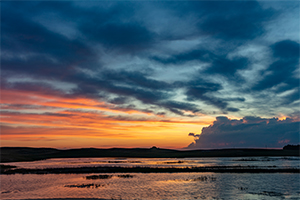 Nebraska's wetlands are essential to the state's ecosystem, and it's vital that we protect them and the diversity of plant and animal species that occupy them, including many that are threatened or endangered. Wetlands also assist in improving water quality, reducing flooding and soil erosion, supply water and produce food. But gathering wetlands information can be arduous. They are difficult to traverse, and mapping them traditionally requires intense labor, time and expertise.

Fortunately, great minds are developing a better way. In July 2020, DWFI provided funding for DWFI supported graduate student Qiao Hu and University of Nebraska–Lincoln and DWFI Faculty Fellow professor Zhenghong Tang to continue their previous EPA-funded work using Unmanned Aircraft Systems (UASs), commonly known as drones, to gather a wide variety of data on the wetlands of Nebraska's Rainwater Basin. The drones have measured flooding/drought conditions, distribution of wildlife and vegetation management effectiveness, among other environmental factors.

Working in the field, even in cold, windy winter months, the team was able to rigorously test the process to determine the best equipment, altitude, resolution and other factors to efficiently and accurately gather the needed data to help them monitor the fragile biome and ensure there is no net loss of wetlands habitat going forward.

The project has been so successful it gained a great deal of attention from state and federal wetland management agencies. The U.S. Fish and Wildlife Service (USFWS) adopted the technology for its own Inventory and Monitoring Plan. Both the USFWS and the Nebraska Game and Parks Commission used various UAS-system-created maps in their wetland restoration projects. Word about the effectiveness of the project has spread, as organizations in Iowa, Colorado, Oregon and other locales have contacted the DWFI team for consultation.

The hard work of this team has had a direct positive impact on Nebraska's ability to monitor and care for the state's wetlands, preserving them for future generations. The project introduces a new survey tool and applicable protocols for conservation managers to further understand the performance of conservation lands in an agricultural landscape, ultimately helping the state achieve the long-term goal of clean water resources and sustainable agricultural practices. It also provides an attractive option for surveying other hard-to-navigate habitats in Nebraska and beyond.
Related Articles
Each year, DWFI supports students doing research across the University of Nebraska related to water and food security.
DWFI hosted several events to support and share the important research of students working toward food and water security with financial and mentoring support from the institute.
Search More Articles
Search the 2021 Annual Report for more articles.
COOKIE USAGE:
The University of Nebraska System uses cookies to give you the best online experience. By clicking "I Agree" and/or continuing to use this website without adjusting your browser settings, you accept the use of cookies.