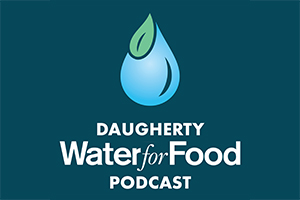 DWFI works to ensure global food security without compromising the use of water to meet other essential human and environmental needs. To amplify the voices of those making waves in this space, and provide another virtual communications tool during the pandemic, DWFI launched the Daugherty Water for Food Podcast on Apple Podcasts, Spotify, Stitcher and Google Podcasts in August 2020.

The podcast's first guest was Louise Mabulo, which coincided with the first session of the Water for Food Global Webinar Series. Mabulo discussed youth and sustainable solutions to food security and was recently named a "Young Champion of the Earth" by United Nations Environment Programme.

Since then, nine episodes have been released and more than 2,300 people have downloaded the podcast in nearly 50 countries. New episodes are typically available once a month and feature those leading solutions to water and food security, both globally and domestically.

Past episodes have included:
Louise Mabulo, an award-winning chef, young entrepreneur and agriculture advocate in the Philippines
Elizabeth Ellis, CEO, International Development Enterprises (iDE)
Felicia Marcus, DWFI Board Member and Water Policy Group member
Meghan Sittler, Director, Spring Creek Prairie Audubon Center
Jessica Fargen Walsh, DWFI Faculty Fellow and UNL professor who worked on a multimedia journalism project titled Nitrates in Nebraska
A collaborative episode with the Nebraska Governance and Technology Center on water law including Anthony Schutz, DWFI Faculty Fellow and professor, UNL College of Law; Felicia Marcus, DWFI Board Member and Water Policy Group member; and Francisco Muñoz-Arriola, DWFI Faculty Fellow and associate professor of hydroinformatics and integrated hydrology, UNL
Martha Shulski, DWFI Faculty Fellow and Nebraska state climatologist
Qiao Hu, DWFI supported student, sharing his research using drones and artificial intelligence for wetlands management
Babak Safa, DWFI post-doctoral researcher, discussing his work on remote sensing and eddy covariance flux data


Users can subscribe to the podcast or listen to recent episodes on the podcast webpage.
Related Articles
The monthly Water for Food Digest e-newsletter is an important communication tool for reaching stakeholders with current news and events related to its work.
The DWFI website continues to be a hub for institute updates and information, especially during the pandemic when many are engaging online.
Search More Articles
Search the 2021 Annual Report for more articles.
COOKIE USAGE:
The University of Nebraska System uses cookies to give you the best online experience. By clicking "I Agree" and/or continuing to use this website without adjusting your browser settings, you accept the use of cookies.