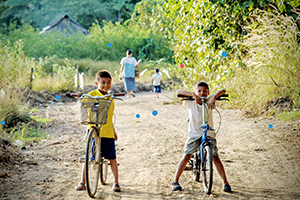 The University of Nebraska and DWFI hosted a regional launch event for the 2020 Lancet Countdown on Health and Climate Change on February 19. As one of a handful of regional launch events across the country, the event disseminated the findings of the Lancet Countdown, a yearly report featuring the most up-to-date data related to the connection between public health and climate change. The regional launch event contextualized and framed the report findings for a local audience, exploring how climate change is impacting our communities in Nebraska and what we can do to build resilience.

This year's Lancet Countdown U.S. Policy Brief featured a case study on the health impacts of the 2019 Nebraska floods, co-authored by Jesse Bell, DWFI Director of Water, Climate and Health. The regional launch event featured a keynote address from Linda Emanuel, Community Health Director for AgriSafe and an ag producer in North Bend, Nebraska. She shared how her community was impacted by the floods and the health impacts that emerged in the wake. The event also featured a variety of Nebraskans who highlighted how our changing climate is impacting a variety of sectors, from law to medicine.

View a recording of the event.
Related Articles
The four-part webinar series titled "One Health Approach for Global Healthy Water" provided U.S. and Latin American perspectives to creating healthy, resilient communities by promoting and sustaining the health and well-being of humans, animals, and the environment.
The Water and Health Summit was held June 29-30 in Lincoln with the goal of improving the health of Nebraska.
The Nebraska Water Center (NWC) hosted a virtual mini-conference in August 2020 for and featuring stakeholders around the state.
Search More Articles
Search the 2021 Annual Report for more articles.
COOKIE USAGE:
The University of Nebraska System uses cookies to give you the best online experience. By clicking "I Agree" and/or continuing to use this website without adjusting your browser settings, you accept the use of cookies.