The communications team expanded DWFI's reach around the globe through posts, blogs, news releases, workshops and events, website updates, publications and more than 30 videos, including a new DWFI overview video highlighting our research, policy and education progress. The team also released a video outlining results of the Nebraska Water Productivity Report. See the DWFI website for a listing of current media mentions, blogs, news and events: waterforfood. nebraska.edu.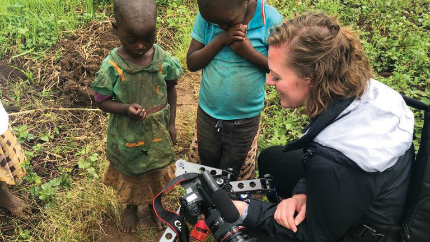 Before it became necessary to cancel plans for the 2020 Water for Food Global Conference, the communications team initiated a Request for Proposal (RFP) process to attract session entries. The response to the RFP drew more than 60 national and international responses from a wide variety of existing partners, such as IWMI, IFPRI and FAO, as well as several new entities, both public and private. A committee comprised of staff and faculty reviewed the sessions, ranking them in terms of perceived quality and value. The institute is working with the organizers of the top-ranked sessions to develop a series of water for food webinars this fall.

The DWFI communications team collaborated with the University of Nebraska Legislative Liaison Team to develop testimony supporting state budget funding to advance research in water quality and productivity in Nebraska, as described in the Development section of this annual report.

This year marks DWFI's 10th anniversary, and the communications team added an anniversary tagline to the logo and featured the decade anniversary in numerous publications. The team also collected anniversary tributes from key leaders throughout DWFI's 10-year history, which are included in the anniversary section of this report.

DWFI's social media communication promoted a wide variety of staff, faculty and student achievements in the past year, focusing on staff, faculty and student research, reports, faculty and student interviews, and messages from Executive Director Peter McCornick.