Water is the lifeblood of Nebraska. It supports the state's $25 billion agricultural economy, sustains wildlife and the environment, and, of course, provides the water needed for healthy daily living.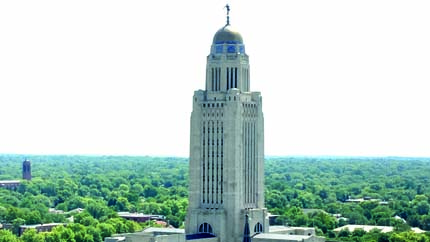 Improving water management can make a tremendous difference in Nebraska's economy and quality of life for its citizens – a fact recognized when Governor Ricketts signed Nebraska's 2021 state budget bill in August. The bill designates $500,000 annually to the Daugherty Water for Food Global Institute at the University of Nebraska for water research in the state.

This state funding will help advance the institute's work in Nebraska – from drought and flood prediction and mitigation, to water quality improvement and innovative technology development that will maximize agricultural production while sustaining our valuable water resources.

With this budget allocation, the people of Nebraska have entrusted DWFI and the University of Nebraska to keep a strong water future flowing for the next generation. DWFI joins the leaders of the University of Nebraska system in thanking Governor Ricketts for signing the budget package, Senator John Stinner and the Appropriations Committee for their work on the budget, and Senator Kate Bolz of Lincoln for leading the effort to invest in water research at the university.