Nitrogen fertilizer use is important for generating high corn yields, but excessive use of nitrogen fertilizer can be costly for producers and harmful to the environment. In-season nitrogen application matches nitrogen availability to crop needs. Fertigation is one method of application where a farmer adds nitrogen to irrigation water, typically through a center-pivot irrigation system.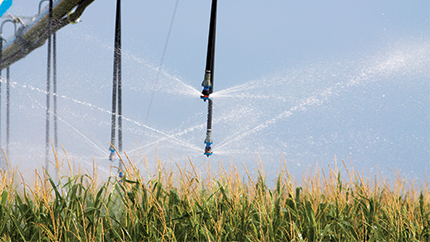 Fertigation is usually assessed based on non-quantitative methods, such as crop appearance or crop growth stage. Sensors can more accurately determine the need for and timing of fertigation, as well as quantities needed. In 2019, DWFI-supported student Jackson Stansell and his advisor, DWFI Faculty Fellow Joe Luck, used aerial imagery to determine fertigation applications at five large onfarm research sites in Nebraska. At four of these five sites, aerial imagery showed more nitrogen-efficient inputs than other assessment methods. At three of these five sites, it also was more profitable.
To make the time-intensive process more practical for widespread adoption, Stansell is working on automating the process, from image processing all the way to delivering a fertigation prescription to an in-field pump. Over the summer of 2020, the team tested sensor-based fertigation on five more sites and implemented the automated fertigation management system.