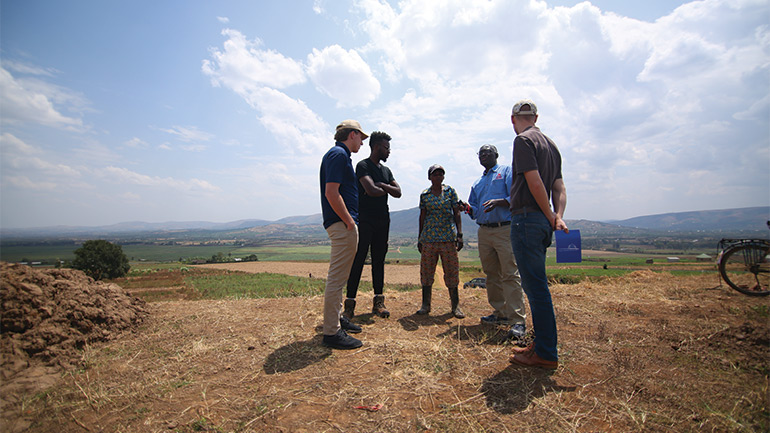 The institute is working on a variety of projects to support the entrepreneurial ecosystem for agricultural and water technology and innovation — both in the U.S. and around the world.

Irrigation development can bring greater crop productivity, incomes, nutrition, food security and employment opportunities for smallholder farmers. Cost-effective scaling of smallholder irrigation could unlock significant potential for increased crop production and result in a more stable income for the bulk of the population. The key is to find a model that works and then scale that system with equitable access and sustainable practices.

DWFI initiated research to study the viability of various irrigation business models in Rwanda as a means of improving smallholder productivity and livelihoods. The DWFI policy team met with participants in irrigated agriculture, including governmental and nongovernmental organizations' staff, entrepreneurs and smallholder farmers to gain a better understanding of what is happening on the ground in Rwanda. The team explored the models that are currently used and the trials and successes of each.

An important goal of the research is to use entrepreneurial tools and methods to understand the financial sustainability and scaling potential of the diverse range of existing irrigation provision business models. The team will soon release an in-depth report of their findings.

DWFI recently secured a $1million grant from the International Fund for Agricultural Development (IFAD) to expand and promote the sustainability and resilience of smallholder irrigation in sub- Saharan Africa. The three-year project is designed to identify and promote opportunities for inclusive and sustainable provision of irrigation water services to smallholders. The project's direct target group will consist of entrepreneurs, young professionals, and other young people engaged or interested in agricultural development in the selected countries, and smallholder farmer households.

Planned activities spanning six countries in East Africa and West Africa will provide research, needs-based technical guidance and other capacity building to support entrepreneurship centered around irrigated agriculture. These activities support DWFI's goals to collaborate with multiple agricultural enterprises to understand, test and validate business models for new agricultural technologies and services and to strengthen the overall entrepreneurial ecosystem. The project will leverage existing connections and engagements of DWFI and the University of Nebraska–Lincoln (UNL) in sub- Saharan Africa.