Last fall, a group of DWFI leaders and faculty presented a seminar at the Kazakh National Agrarian University in Kazakhstan, along with representatives from Valmont, to share information on advanced groundwater management and irrigation methods to improve crop and water productivity.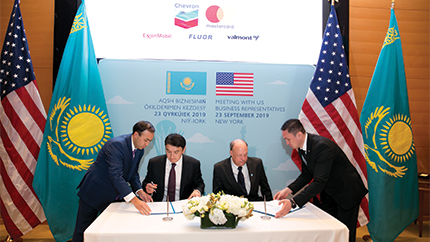 Leaders from Nebraska presented a seminar focused on the use of surface water and groundwater resources for irrigation in southern Kazakhstan and on attracting investors. The meeting participants examined problems related to water management, as well as the use of water resources and irrigation equipment. Participants expressed their intention to create an industrial center for the production of irrigation equipment and to strengthen mutually beneficial partnerships.
DWFI and the University of Nebraska–Lincoln later signed a memorandum of understanding with agriculture and water leaders from Kazakhstan. In an exploratory report, DWFI leaders provided Kazakhstan stakeholders with technical analysis of the Turkestan Canal and basin, examining the state of the irrigation canal and distribution system, groundwater availability and other observations.