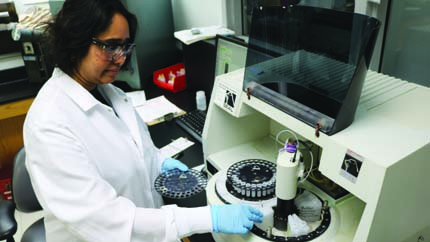 The WSL marked its 30th anniversary in 2020 with new equipment, a renovated lab interior and commemorative publications. Then the global pandemic forced a reconfiguration of its operations. With numerous samples on deadline to be analyzed, the WSL balanced new safety precautions with client deliverables. The lab was among the first on-campus facilities to partially reopen during the COVID-19 shutdown.
The lab entered 2020 with a new Xevo TQS triple quadrupole mass spectrometer. The stateof- the-art device can measure contaminants with greater speed and 1,000 times the sensitivity of its older counterpart. In the fall of 2020, the WSL hosted a technical workshop with Waters Corporation, makers of the instrument, to train water professionals on its range of capabilities.
The lab continues to serve interdisciplinary faculty from multiple specialties, with the largest number of users coming from the Institute of Agriculture and Natural Resources, followed by the College of Engineering and College of Arts and Sciences. System-wide users include faculty from the University of Nebraska Medical Center and University of Nebraska at Kearney..
View the special edition Water Current featuring the WSL