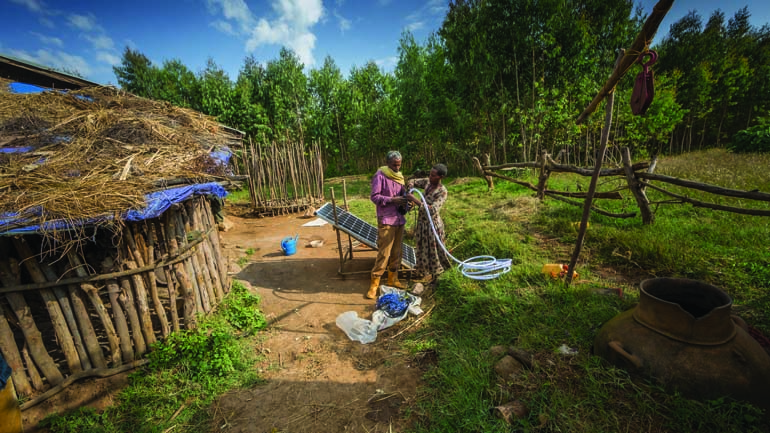 As a result of DWFI's previous conference sessions and forums on smallholder farmer-led irrigation (FLI), as well as the institute's research in Rwanda examining the viability of various irrigation business models, several partners invited DWFI to coproduce and host a two-part webinar series on the topic, along with a third webinar produced as a World Water Week virtual session:


Accelerating inclusive farmer-led irrigation and reaching scale: key things to consider – held June 11, 2020, in partnership with The World Bank, the International Water Management Institute (IWMI), Borlaug Institute for International Agriculture Development, et al.; focused on scaling up farmer-led irrigation.


Accelerating inclusive farmer-led irrigation development: a sustainable approach to reaching scale – held July 9, 2020, in partnership with the International Food Policy Research Institute (IFPRI), Global Water Partnership West Africa, IWMI, et al.; focused on how to ensure sustainability and inclusivity as work continues to systemically accelerate scale.


Operationalizing farmer-led irrigation: implementers dialogue – held August 26, 2020, as part of World Water Week, featuring implementers working in East Africa, Nigeria and Cameroon. DWFI's director of policy provided closing remarks to close out the series.


The webinars featured global experts sharing both the challenges and proven tactics for accelerating inclusive farmer-led irrigation development. The virtual miniseries explored key issues and next steps for operationalizing sustainable and inclusive FLI scaleup. All sessions garnered well over 1,000 registrants from 96 countries, and the recorded webinar videos have been viewed more than 1,300 times.

Following the success of the FLI webinars, DWFI produced another two-part webinar series focused on supporting women and youth in agricultural entrepreneurship and water management. Both webinars featured top international women leaders in water and food security, as well as DWFI-supported graduate students and staff. The webinars generated enthusiastic engagement through Zoom chat and set the stage for future collaborations with participating partners.

Recorded videos from DWFI-produced webinars are available to view on the institute's YouTube Channel.