Safe, abundant drinking water is essential throughout the world. DWFI continues to support research, teaching and outreach for this critical issue. In Nebraska, much of the health focus is on nitrate, a by-product of fertilizer used to grow crops like corn and soybeans.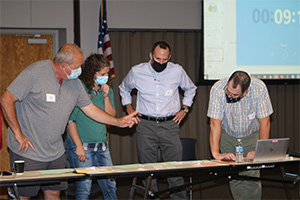 In 2020, Crystal Powers, Research and Extension Communication Specialist for DWFI and the Nebraska Water Center (NWC), and Katie Pekarek, Extension Educator with University of Nebraska–Lincoln (UNL) School of Natural Resources convened a working group of Nebraska's leaders in agriculture and water management. The groups included 85 participants from 31 organizations across Nebraska who established the goal that "all Nebraskans will have safe drinking water." The group divided into working teams and created proposals for awareness, education and policy with this goal in mind.
The nitrate working groups have renewed efforts across the state to ensure safe drinking water. DWFI and NWC continued to lead a Nitrate Awareness Team and co-hosted a planning retreat with DWFI Water, Climate and Health Director Jesse Bell, the Nebraska Department of Environment and Energy and the U.S. Department of Agriculture Natural Resources Conservation Service. The team then submitted funding requests for unified messaging, media content and events and organized to hire an Extension Educator to bring increased capacity for outreach around water quality and public health. DWFI and NWC also worked with Nebraska Extension to include these topics in its annual Nebraska Rural Poll.
DWFI and NWC convened the Nitrate Education Team as part of the UNL Water and Innovative Cropping Systems team and it includes more than two dozen DWFI Faculty Fellows and supported students. The group provides improved communication and collaboration across the more than 80 faculty involved. This has resulted in increased focus and clarity across outreach programs and integration with the latest research, both for Nebraska farmers and water professionals. Additionally, DWFI staff and Faculty Fellows partnered with Nebraska's Natural Resources Districts, commodity boards and others for updated Nitrogen Certification Trainings, on-farm research, and hands-on field days.
In August 2021, DWFI and NWC released the Nebraska Nitrate Working Groups Call to Action, which identifies several initial actions that can collaboratively provide impact in the areas of awareness, education and policy to ensure safe drinking water for all Nebraskans.
Renata Rimšaitė collaborated on an assessment which measured the economic impact of the irrigation industry in the United States in 2020.
Of Rwanda's roughly 600,000 hectares of irrigable land, only 10% is currently irrigated.
As a result of their technical visit to Nebraska in May, the government of Mato Grosso, Brazil, will sign a technical collaboration agreement with the Daugherty Water for Food Global Institute.
COOKIE USAGE:
The University of Nebraska System uses cookies to give you the best online experience. By clicking "I Agree" and/or continuing to use this website without adjusting your browser settings, you accept the use of cookies.