The American Society of Civil Engineers (ASCE) awarded Christopher Neale, DWFI director of research, a national award for his important contributions to irrigation science in the United States and globally and for his training of irrigation engineers. He accepted the award at the Environmental & Water Resources Institute (EWRI) of the ASCE conference in Atlanta, Georgia on June 7, 2022 and gave a presentation of his work and the importance of mentoring and collaboration during his career.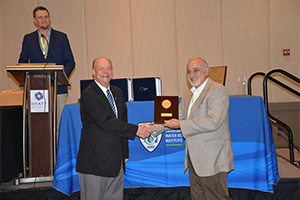 The Royce J. Tipton Award recognizes contributions to the advancement of irrigation and drainage engineering in teaching, research, planning, design, construction, or management. In honoring Neale with the 2022 Tipton Award, the ASCE recognized his "significant contributions on the use of remote sensing for estimating evapotranspiration of agricultural crops, irrigation water management and hydrology, and the education of irrigation engineers."
ASCE noted his decades-long career, world-renowned authority on applications and advancement of irrigation and drainage engineering through exemplary accomplishments. Neale has authored or co-authored 123 peer-reviewed publications, which have been cited more than 5,700 times. He has served as the major advisor to 23 master's students and 22 doctoral students.
"It is an honor to receive this recognition and I am thankful for having had impactful mentors, colleagues and graduate students over my career that have contributed to my success," said Neale.
Neale's research interest has focused on developing remote sensing applications for irrigated agriculture, hydrology and natural resources monitoring. His work in irrigation engineering began in 1984, when he evaluated the performance of automated surface irrigation systems in the Grand Valley of Colorado. In 1988 he joined the faculty at Utah State University as a professor of irrigation engineering. There, he established the university's Remote Sensing Services Laboratory.
A low-cost airborne remote sensing system he developed is used in the western U.S. to map spatially distributed energy balance and evapotranspiration of riparian and agricultural vegetation.
Neale joined the University of Nebraska in 2013 and oversees DWFI's research efforts, engaging faculty in new projects and initiating partnerships with organizations and universities worldwide. He holds a doctorate in agricultural engineering from Colorado State University and has led numerous national and international partnerships and projects to foster and improve irrigation management in the U.S., Middle East and North Africa, India, Brazil, and Kazakhstan.
His most recent international projects were in the Dominican Republic, where he used aerial photography and remote sensing to map and monitor irrigated agriculture and developed a comprehensive database of irrigation water users in a GIS environment.
Neale is president of the international Commission on Remote Sensing of the International Association of Hydrological Sciences. He is a founding partner and executive committee member of the Irrigation Innovation Consortium.
A The University of Nebraska's Water Sciences Laboratory (WSL) has acquired important new equipment through the Federal Excess Personal Property Utilization Program.
DWFI, the Nebraska Water Center (NWC) and the Water Sciences Lab (WSL) experienced growth in capacity in the form of several new staff members.
A newly-established fund — the Water for Food/IALC Student Impact Award — will support outstanding students at the University of Nebraska. 
COOKIE USAGE:
The University of Nebraska System uses cookies to give you the best online experience. By clicking "I Agree" and/or continuing to use this website without adjusting your browser settings, you accept the use of cookies.