DWFI hosted an upper class learning community at UNL focused on global entrepreneurship, agriculture and sustainable development. In late July and August 2019, DWFI staff led eight students from the learning community on a three-week experiential study trip to Rwanda. The students, a mix of American and Rwandan UNL students, traveled across the country, meeting with farmers, local entrepreneurs, nongovernmental organizations and agribusinesses to learn about the agricultural landscape in Rwanda.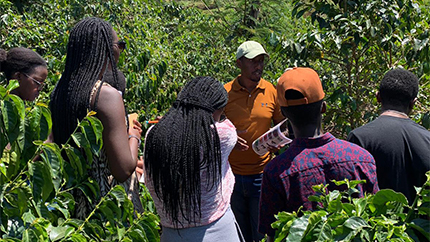 DWFI also provided financial and professional development support to the Future Agriculture Leaders (FAL), a student-run organization of UNL students aimed at helping Rwandan youth develop an interest in solving agricultural issues through entrepreneurship and innovation. In July, DWFI co-sponsored FAL's inaugural entrepreneurship workshop and pitch competition in Kigali, Rwanda. About 50 high school students representing 13 different schools across Rwanda participated in the workshop.

DWFI's engagement in Rwanda includes capacity building for local entrepreneurs and other nongovernmental organizations through informal mentoring. DWFI staff has developed relationships with start-ups such as Volta Irrigation, a small agribusiness company providing irrigation through a fuel-free system to smallholder farmers across the country. DWFI's support for Volta Irrigation even helped the company land a start-up contract from One Acre Fund (an international NGO) to develop and manufacture innovative planting tools, as well as building 100 irrigation systems to support 1,000 smallholder farmers across Rwanda.


Future focus
In the coming year, the DWFI policy team will release a report with case studies and key findings of their business model analysis in Rwanda. Engagement and mentoring will also continue with entrepreneurs, as well as current and graduated scholars from the College of Agriculture and Natural Resource (CASNR) Undergraduate Scholars Program (CUSP), to develop business strategies that could sustainably scale irrigation efforts in Rwanda.