This website provides resources for those interested in irrigation solutions for smallholder farmers in Africa. Producers, non-governmental organizations, government agencies, private companies, university scholars and others are welcome to share
resources
through this site.
Share Resources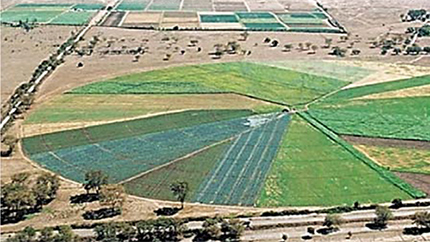 Existing shared-pivot projects provide a model for how to plan, design, construct, operate, and maintain high-intensity irrigated agriculture. The projects featured on this site display a range of shared-pivot applications, demonstrating how the concept may be customized in different social, political, or environmental settings. Project information includes lessons learned, so that future irrigators may share the successes, and avoid the hindrances, of those producers before them. For questions, or to add your project to the list below, please contact us at
waterforfood@nebraska.edu
or +1 402.472.5145.
The Need
Many smallholder farmers are trapped in a cycle of low productivity and poverty. They generally farm small rain-fed plots, use a limited amount or a limited amount of agricultural inputs, and grow primarily for their own food security. They lack access to markets and financing resources that would allow them to invest in strategies that increase productivity.
Background
Only 5% of sub-Saharan farmland is irrigated, compared to 20% world-wide. Irrigation eliminates the cycle of rainy and dry seasons, permitting year round cropping. This allows irrigators to get three or more crops per year, whereas rain-fed farmers typically grow only one crop per year. Therefore, large scale commercial agricultural producers who irrigate experience 4-10 times the yields compared to the typical smallholder farmer.
Africa currently uses the same amount of land for maize production as the United States, but while the US grows 400 million tons per year, Africa grows about 60 million tons. By improving access to agricultural inputs, investing in mechanized means of irrigation and production, and using best practices in agricultural management, Africa has the potential to increase yields without having to cultivate more land.
Shared-Pivot Concept
The objective of the shared-pivot concept is to support smallholder farmers' successful commercial farming. By increasing yields and total production, smallholders can increase incomes and develop their communities and improve services such as health and education.
CIRCLES is an initiative of the Daugherty Water for Food Global Institute (DWFI) and partners in Africa and the United States to support implementation of this concept through technical support, communication on projects and methods, research and evaluation.
While there are multiple viable irrigation strategies for the African continent, this site focuses on the shared-pivot concept. A single center pivot may irrigate over 100 acres, while a smallholder farmer in Africa typically farms 1-3 acres. Using a shared-pivot system, dozens of producers individually farm adjacent plots. Each producer keeps control of the use and profits of his or her land, but the producer-group shares the use, operation, and purchase/maintenance costs of the center pivot.