Figure 1. Projects focus on the western portion of the state of Bahia

Focus Areas: Enhancing High-Productivity Irrigated Agriculture and Groundwater Management

Contact Information: Dr. Aziz Galvão da Silva Jr., Associate Professor – Federal University of Viçosa, Brazil, aziz.galvao@gmail.com and Dr. Christopher Neale, Director of Research – Daugherty Water for Food Global Institute, USA, cneale@nebraska.edu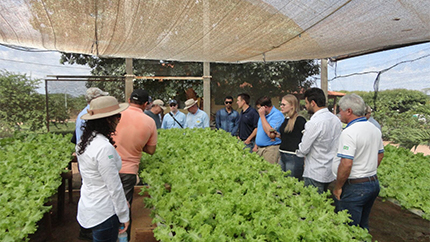 Overview
A new program of collaborative research projects is underway between the Association of Farmers and Irrigators of Bahia (AIBA), the Federal Universities of Viçosa and Rio de Janeiro (UFV and UFRJ), the State Government of Bahia and the Daugherty Water for Food Global Institute at the University of Nebraska (DWFI/UNL), USA. The projects, focused in the western portion of the Brazilian state of Bahia (Figure 1), has multiple objectives, including:


Figure 2. The Urucuia Aquifer of western Bahia, circled in red
Hydrogeological modeling to define the sustainable use of the Urucuia Aquifer;
Assessment of surface water availability in the Grande, Corrente and Carinhanha River Basins;
Land use change and assessment of soil carbon sequestration in irrigated areas in Western Bahia; and
Development, testing and economic evaluation of hydroclimatic forecasting systems for water, food and energy security in Western Bahia.
Need
Figure 3. The São Francisco River Basin, showing western Bahia circled in orange.
The Bahia savannah region of Brazil has unmet potential for irrigated agriculture from the Urucuia aquifer, circled in red in Figure 2. For example, the volume of this aquifer is equivalent to the U.S. Ogalalla aquifer (3.8K km3 to 3.7 km3), but has less than 3% of the number of center pivots as Nebraska.
The São Francisco River Basin (Figure 3), containing the program area, has many competing uses, including agriculture, urban, industrial, hydropower, and potential water diversion.
There is a need to coordinate existing hydrologic models for a holistic understanding of water quantity availability, and the influencing factor of land use on water quantity and quality. Questions to answer include:

What is the quantity of water available in local contexts over time? Where is surface and groundwater hydrologically connected?
How do land use changes affect water quantity and quality?
Which are the key organizations that influence water use and management?
What is the most effective water governance structure? What monitoring is needed?
Population Served
Generally, the residents of western Bahia. Agribusiness is 23% of Gross National Product, 48% of exports, and 20% of employment based on national average.

More specifically,
Farmers groups such as AIBA, including smallholder family farmers
Universities, such as University of Viçosa
State government (i.e. agriculture, fisheries, livestock, irrigation, natural resources, and watershed revitalization departments)
Partners
This is a stakeholder-lead program, funded by the farming organization AIBA, including 1,300 farmers and 2.25 million hectares.

Other partners include:


State government of Brazil and Nebraska (Nebraska Department of Natural Resources and Nebraska Natural Resource Districts)
Agribusiness owners
Large & small-holder farmers
Multi-disciplinary university researchers
Target Outputs
This program seeks to develop understanding between government, farmers, industry, and academics on how land use changes and other activities affect water quantity and quality, so that all stakeholders will communicate effectively in solving problems and creating opportunities. To maximize the benefits of available water resources sustainably, the research and implementation team is seeking to identify best practices for irrigation and groundwater governance, based on stakeholder input. The assumption is that if producers and industry are involved in developing water use regulations and requirements, they will understand the need to comply. Specific high-level planned outputs include 1) a water availability and use assessment of historical, current, and projected water conditions; hydrologically connected surface and groundwater; and stakeholder influence analysis and 2) water governance and monitoring strategy implementation.

The changes envisioned from this work include:


Increasing farmer yields, income, and socio-economic opportunity.
Reducing risk from drought and results in year-round planting and harvesting.
Monitoring programs and regulation keep groundwater quantity and quality stable.
Reaching the irrigation potential of the Bahia region.
Developing year-round markets for agricultural products.
Reducing smallholder farmer reliance on subsidies and foreign aid.
Highlights: Nebraska Delegation Visit to Bahia, Feb. 28 – March 3, 2018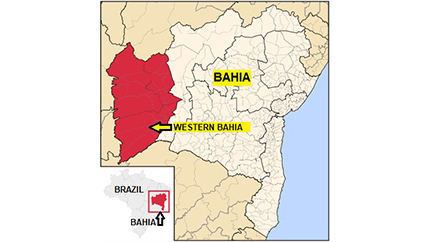 A delegation from Nebraska visited western Bahia in early 2018, during which successful experiences and challenges of water management for irrigated agriculture in Nebraska and Bahia were presented and discussed among technicians, researchers, farmers, water user representatives, civil society, policymakers (executive, legislative, and judiciary) and the media. The program included several meetings, farm tours, two international seminars and an audience with the Governor of the State of Bahia, Mr. Rui Costa. About 300 professionals, representing 111 organizations from different sectors. Read the full report in English or Portuguese


Target Outcomes & Impacts
The following outcomes, tied to DWFI Research and Policy Focus Areas (FA) and Program Areas (PA), are goals for the program and sub-project work:
[FA] implement best practices and technology to intensify irrigated agriculture on existing cropland sustainably.
[FA] manage groundwater based on local context; enact or improve governance and monitoring.
[FA] implement best practices and technology to improve water and energy use efficiency; document improvements.
[FA] monitor and regulate water quality to protect ecosystems and public health.
[FA] increase drought resilience by reducing reliance on rainfall
[PA] build stakeholder capacity with education & engagement.
Read More:
Further information is available in the documents below. For specific questions, or to become a partner in the program, please contact Dr. Aziz Galvão da Silva Jr., Associate Professor – Federal University of Viçosa, Brazil at aziz.galvao@gmail.com and Dr. Christopher Neale, Director of Research – Daugherty Water for Food Global Institute at cneale@nebraska.edu.