Lincoln, Nebraska, U.S.A. — "Water and food are two of the most important priorities of tomorrow's world," said Loïc Fauchon, president of the World Water Council. "We must stop ignoring that water is food."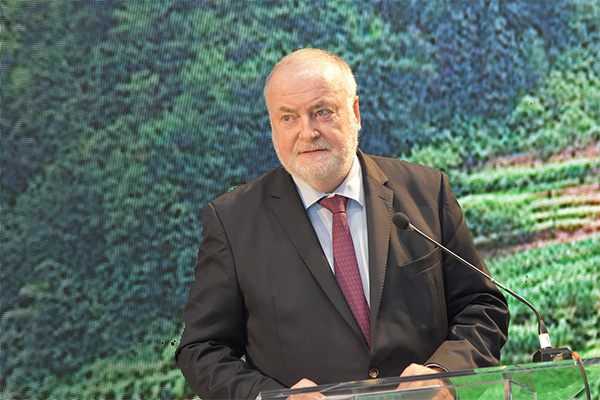 Fauchon was one of more than 120 global speakers and 400 participants who gathered at the tenth Water for Food Global Conference to discuss innovative ways to improve water and food security by increasing farmers' resiliency to a changing landscape. The conference was produced by the Daugherty Water for Food Global Institute at the University of Nebraska (DWFI) and held May 8-11 in Lincoln, Neb. The 2023 conference was a partner event for the 10th World Water Forum, the world's largest water-related forum organized by the World Water Council.
"Food security is national security," said Beth Ford, President and CEO of Land O'Lakes. "And water is critical to production agriculture, it's critical to communities, and to life," she said.
In the Heuermann Lecture at the conference, Ford stressed that a comprehensive, long-term water sustainability strategy is needed and shared why water is at the top of her priority list.
"It was inspiring to see such an engaged group of people from more than 27 different countries working toward the same goal, sharing new and different perspectives and so enthusiastic about future collaborations," said Peter G. McCornick, DWFI executive director.
"[The conference] was issue-oriented and combined researchers and practitioners. Unlike many academic conferences, it didn't get lost in the individual research projects and papers. Instead, it provided a big picture view of how diverse actors, researchers, etc., are identifying and developing activities," said one conference attendee.
The four-day conference, situated in the middle of a living laboratory and atop the vast Great Plains Aquifer, provided a platform to explore win-win scenarios to support improved water use in agriculture and increase productivity at a variety of scales – from smallholders, collectives and coops to commercial farm operations – while preserving water resources for other human and environmental needs.
Themed, "Cultivating Innovation: Solutions for a Changing World," the conference focused on the next generation of research, smart technology, policy development and best practices that are achieving breakthroughs in this vitally important mission. Those from academia, government agencies, policymaking groups, nonprofits, non-governmental organizations, entrepreneurs, water managers, growers, students and private industry came to engage at more than 35 sessions provided.
Sessions covered a wide range of important topics, including supporting, financing and scaling smallholder irrigation; drought, water and human health; setting corporate water targets; innovations in irrigation technology; the circular bioeconomy; sustainable crop intensification strengthening drought risk management; and land and soil management; as well as how we continue to frame the conversation surrounding water and food at future high-level, international meetings.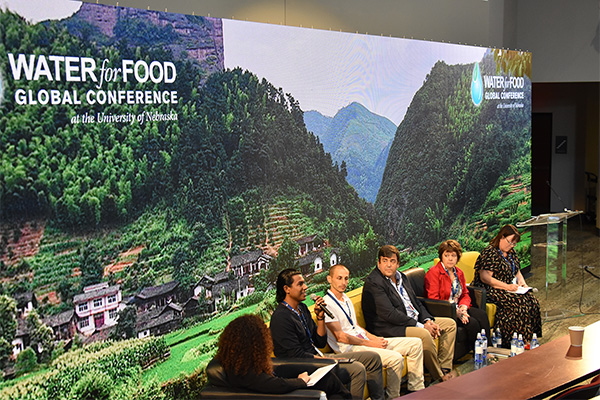 The conference featured more than 120 speakers from global partnering organizations including the World Bank, Land O'Lakes, the World Water Council, the Nature Conservancy, the Foundation for Food and Agriculture Research, the World Wildlife Fund, Cargill, USAID, the U.S. Department of Agriculture, the National Drought Mitigation Center, the International Water Management Institute, the National Oceanic and Atmospheric Administration, iDE, the United Nations Convention to Combat Desertification, the Food and Agriculture Organization of the United Nations, the Clinton Development Initiative, Catholic Relief Services, Bayer Crop Sciences, the International Food Policy Research Institute, WaterAid America, and others.
The conference also showcased Nebraska outside of the conference room to the global audience by hosting tours of a local farm and feedlot, as well as the University of Nebraska's Eastern Nebraska Research, Extension and Education Center. The tours were an opportunity to share Nebraska's unique water management system, how nitrates are being addressed across the state and the intertwining factors involved in a Nebraska feedlot operation. Participants also had the opportunity to speak with local growers about the challenges and opportunities they face.
All conference sessions were recorded and will be available to view on the institute's YouTube Channel in the coming months: https://www.youtube.com/@WaterForFood. More information can be found on the conference website: https://waterforfood.nebraska.edu/explore-our-conferences/2023-water-for-food-global-conference.