By: Ankit Chandra and Nick Brozović
Last year, our team at the Daugherty Water for Food Institute and Invest Nebraska had the opportunity to dig into the state of the agtech startup ecosystem in the Midwest, and particularly in Nebraska. We synthesized the trends we noticed, as well as what we were expecting to see, but we didn't. You can see the visual result of our work.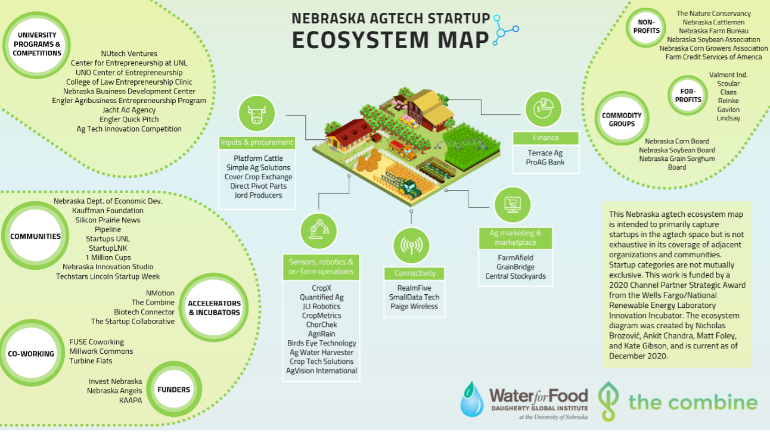 Our focus has been on companies that work around crop production, livestock systems, and value chains; these companies represent the majority of startup activity in Nebraska. There are a couple of trends worth pointing out.
--
First, there's been an explosion of startup companies in the agtech ecosystem nationally or globally over the last few years. With that, there's been a tendency for the categorization of companies and their market segments into finer and finer categories (those of you with access can compare the CB Insights agtech maps from 2017 and 2019 to see this process in action). We're now seeing a reversal of this trend that suggests maturing of companies and a natural evolution of value propositions.
This is clearest for startups whose initial product was some kind of sensor technology – most of these companies have grown beyond narrow value propositions related to sensor data acquisition. At the moment, we see a bifurcation: many sensor-first companies now market themselves either as farm connectivity solutions or as unifying data-driven decision platforms. In Nebraska, RealmFive would be an example of the former approach and CropX of the latter one.

Both of these pivots – to connectivity and to decision support – reflect current needs at the farm level. In particular, one of the largest pain points for agtech adoption is the difficulty of obtaining a broadband connection in rural areas. Startups that begin by solving this issue for their own sensors may pivot to become connectivity providers for other products and technology providers. We've also seen telecommunications companies start to make agricultural plays (e.g., Paige Wireless in Nebraska). Some large telecom companies have even made portfolios of acquisitions in the agtech space. For example, in late 2020, Canadian telecom giant Telus acquired seven agtech startups and unveiled a new business unit dedicated to providing connectivity solutions in agriculture.
--
Second, over the last year, regenerative agriculture and carbon sequestration have become mainstays of the conversation about how to scale agricultural innovation‒ from growers to large corporates. As far as we know, none of last year's set of agtech maps included "regenerative agriculture" as a primary category. We chose not to include it in our own Nebraska map as, at the time of publication, regenerative agricultural approaches were not the primary value proposition of the startups we saw in the state.
When we look at federal policy shifts, at how larger players such as Farmers Business Network, Granular, IndigoAg, LocusAg, and CiBO are positioning themselves, as well as at smaller startups like Nori or Regen Network, we'd be surprised if "regenerative agriculture" doesn't become a large market-defining category moving forward. We'll look forward to welcoming Nebraska-based startups in the segment!
--
Finally, there are already a number of Nebraska startup companies focused on animal health and management of livestock and poultry operations. Even so, and with an eye on Nebraska's leading role in the livestock and food production industries, we're hoping to see some more startup movement in the beef value chain and more generally around food processing.
--
What are your thoughts? What larger trends are you seeing around agtech startups? What questions do you have? We'd love to hear from you.