Lincoln, Nebraska – The Ivanhoe Foundation of Ojai, California, has made a generous gift to support international graduate students at the University of Nebraska who are preparing for careers in water management. The gift creates new awards for fellowships and research assistance to help students committed to improving water and food security in developing countries.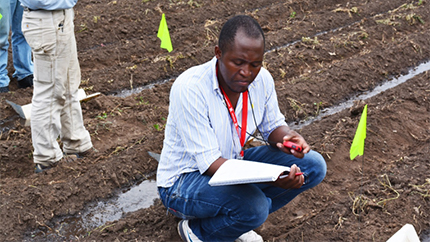 Upon learning about the Daugherty Water for Food Global Institute at the University of Nebraska online, Cheryl Ivanhoe Townsend, Chair of the Ivanhoe Foundation, attended DWFI's 2017 Water for Food Global Conference in Lincoln, Nebraska, to learn more about the institute's work around the world. Based on the information she gained from the conference and impressed with the global impact of DWFI, she recommended funding programs for international graduate students attending the University of Nebraska in water-focused areas of study.
This year, the Ivanhoe Foundation presented a $355,000 gift to the University of Nebraska Foundation to establish The Ivanhoe Foundation Daugherty Water for Food Global Institute Student Support Fund. The fund will provide needed financial assistance through fellowship awards and research assistance for international graduate students pursuing careers in water management, especially in less economically developed countries. The gift was matched by designated funds within the NU Foundation to create a combined permanent endowment of $710,000. This funding will strengthen and enhance DWFI's efforts to cultivate future leaders in water and food security.
"The Daugherty Water for Food Global Institute will be able to reach many more global students than they could before," Ms. Ivanhoe Townsend said. "We are excited to see the impact these students will make as they use the knowledge gained to tackle these enormous challenges that lie ahead of us. We want to be a part of DWFI's mission to ensure water and food security for our world."
DWFI Executive Director Peter G. McCornick added, "It is exciting to see how donor matching can lead to a very significant gift. Water and food security is a complex global challenge, but this gift will enable us to make a greater impact through the University of Nebraska graduate students who will share their knowledge and experience to improve water management in their home countries."
University of Nebraska Foundation President and CEO Brian Hastings said the university is grateful for the Ivanhoe Foundation's commitment to this important cause. "The impact of the Ivanhoe Foundation's generous gift will be tremendous to witness over the years as the young people in whom they are investing are educated and trained to tackle the world's greatest water resource challenges," he said.
The Ivanhoe Foundation
L.F. "Buz" Ivanhoe was born a U.S. citizen, but was raised in Brazil and attended schools in Rio de Janeiro. He returned to the United States during the Great Depression and worked his way through school at the South Dakota School of Mines. His first job as a mining engineer was in the remote mountains of Ecuador, followed by jobs in Venezuela. In 1948 he returned to the U.S. to study petroleum geology at Stanford. His understanding of foreign cultures and multiple languages lead to his position as an international expert in petroleum exploration.
Having been a foreign "starving student" he understood the extra hardship international students can have when under financial stress and far from home. Wanting to duplicate the kindness shown to him during his time in South Dakota, Ivanhoe set up the Ivanhoe Foundation to provide financial aid to selected foreign students studying in U.S. universities.
Ivanhoe spent most of his working years in developing countries and observed firsthand the plight of water-scarce communities. He felt the most pressing need globally will be practical water-related degrees at the master's degree level. He summed up his observations in a typically succinct quote, "Oil is convenience. Water is life."
The Ivanhoe Foundation was founded after his death to fulfill his mission to support foreign students studying in U.S. universities. He felt talented masters' degree students could bridge the knowledge gap between policymakers and people working on the ground to solve the complex challenges of environmental, urban and agricultural landscapes.

Robert B. Daugherty Water for Food Global Institute at the University of Nebraska
The Daugherty Water for Food Global Institute (waterforfood.nebraska.edu) was founded in 2010 to address the global challenge of achieving food security with less stress on water resources through improved water management in agricultural and food systems. We are committed to ensuring a water and food secure world while maintaining the use of water for other human and environmental needs. Connect with us on Twitter, Facebook, YouTube and the Water for Food Blog.

DWFI is one of four interdisciplinary, university-wide institutes that leverage talent and research-based expertise from across the University of Nebraska system to focus on complex state, national and global challenges.