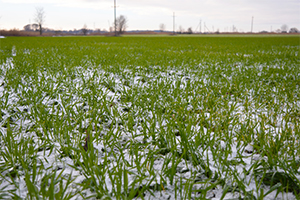 In agriculture, cover crops are planted to protect the soil rather than for the purpose of being harvested. A cash crop is grown to harvest and sell for profit. Alternating a cover crop with a cash crop prevents soil erosion, retains soil nutrients, suppresses weeds and pests, retains and supplies nitrogen and makes the cash crop more resilient to weather variations. But how well the cover crop is working as a soil health management system has not been easy to quantify—until now, thanks to specialized data generated by a UNL research team supported by DWFI.

Agronomy graduate research assistant and DWFI-supported student Fernanda Souza Krupek, and DWFI Faculty Fellow and Assistant Professor Andrea Basche have been collecting aerial and on-ground cover crop biomass data for the Nebraska Soil Health Initiative. Pairing high-resolution multispectral aircraft imagery of cover crops with on-farm soil data, the team found they could diagnose site-specific issues and give growers a clearer picture of how well a cash crop has performed.

In this most recent year of the five-year program, aircraft flew over participating cover crop farms at regular intervals during the growing season and the researchers analyzed the imagery data to detect field differences. Giving growers this information can help them tailor crop management—achieving healthier soils, improved water infiltration and better land management.

Last year, the researchers published two extension CropWatch articles summarizing preliminary results, presented findings in a Market Journal episode, completed media interviews and presented at several conferences, including the Nebraska Soil Health Conference in February 2021. Many collaborators from diverse agricultural backgrounds and countries, including a scholar from the UNL UCARE undergraduate program, led project subcomponents.

Going forward, the team will fill another knowledge gap in the impacts of cover crops on cash crops by assessing the energy spectrum related to nutrient status, water stress and canopy cover. Widespread interest in the study indicates the agriculture community is eager to see precision agriculture tools applied to conservation management—yet another way of building climate resilience in Nebraska and around the world.
Related Articles
Each year, DWFI supports students doing research across the University of Nebraska related to water and food security.
DWFI hosted several events to support and share the important research of students working toward food and water security with financial and mentoring support from the institute.
Search More Articles
Search the 2021 Annual Report for more articles.
COOKIE USAGE:
The University of Nebraska System uses cookies to give you the best online experience. By clicking "I Agree" and/or continuing to use this website without adjusting your browser settings, you accept the use of cookies.