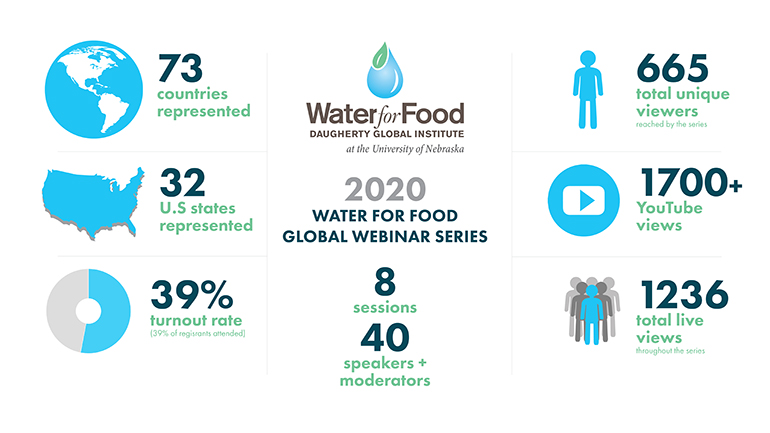 Like many others, DWFI adjusted its programming and outreach in 2020 and 2021 due to the COVID-19 pandemic. The institute engaged stakeholders mostly virtually, kicking off its fall 2020 programming in August by featuring Louise Mabulo in a webinar exploring women leaders in water for food and empowering youth entrepreneurs. Mabulo is an award-winning chef, entrepreneur, and agriculture advocate and had been slated to headline the in-person 2020 Water for Food Global Conference, which was postponed.
Additional webinars comprised the complete Water for Food Global Webinar Series, which attracted more than 3,000 registrants and over 1,200 live viewers. More than 1,700 viewed the recorded sessions on YouTube. Collaborators included those from the World Wildlife Fund, The Coca-Cola Company, Nestlé, Cargill, iDE, IWMI, USDA, the Irrigation Innovation Consortium, the Water Policy Group and others. The series explored the topics of:
Related Articles
The four-part webinar series titled "One Health Approach for Global Healthy Water" provided U.S. and Latin American perspectives to creating healthy, resilient communities by promoting and sustaining the health and well-being of humans, animals, and the environment.
The Water and Health Summit was held June 29-30 in Lincoln with the goal of improving the health of Nebraska.
The Nebraska Water Center (NWC) hosted a virtual mini-conference in August 2020 for and featuring stakeholders around the state.
Search More Articles
Search the 2021 Annual Report for more articles.
COOKIE USAGE:
The University of Nebraska System uses cookies to give you the best online experience. By clicking "I Agree" and/or continuing to use this website without adjusting your browser settings, you accept the use of cookies.