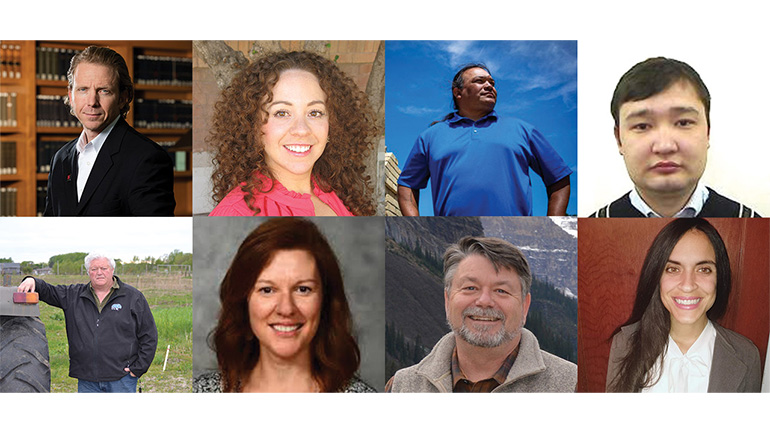 The Nebraska Water Center (NWC), in partnership with the University of Nebraska–Lincoln's School of Natural Resources, hosted its 53rd annual Spring Water Seminar Series in 2021. The series focused on race, justice and the environment and featured Nebraska, national and international speakers. Each seminar wove water issues into the larger picture. While the series has long been open to the public, due to COVID-19 it was delivered virtually via Zoom every other week.

Additionally, the series – with writing assignments and in-class, student-led discussions on alternate weeks – once again doubled as a one-credit hour undergraduate/graduate course.

The 2021 seminars featured one of the most diverse lineups in series history. Collectively, the speakers represented engineering, water chemistry, environmental studies, legal, policymaking, tribal and student backgrounds. They were also geographically diverse, with lecturers hailing from Oklahoma, North Dakota, Arizona, Puerto Rico and Kazakhstan. Nebraska speakers included legal scholars and several tribal representatives, many of whom also participated in a Tribal Water Summit on April 14.

Established in 1968, the series provides a forum to increase awareness and foster meaningful conversation regarding these issues. The series is a cornerstone of NWC's mission to help the University of Nebraska become an international leader in water research, teaching, extension and outreach.


This year's lecturers included:
Anthony Schutz, Associate Professor of Law, University of Nebraska-Lincoln
Doug Crow Ghost, Water Resources Administrator, Standing Rock Sioux Tribe
Marty Matlock, Executive Director, University of Arkansas Resiliency Center; Chairman, Cherokee Nation Environmental Protection Commission
Rebeca de Jesús Crespo, Assistant Professor, Department of Environmental Sciences, Louisiana State University
Bolat Uralbekov, Professor, Department of General and Inorganic Chemistry, Al-Farabi Kazakh National University, Kazakhstan
Nebraska tribal youth who presented on water topics as part of the Tribal Water Summit and the seminar series
Mónica Ramírez-Andreotta, Assistant Professor, Department of Environmental Science, University of Arizona
Hank Miller, Math and Science Division Head, Nebraska Indian Community College
Martha Shulski, Nebraska State Climatologist, University of Nebraska-Lincoln


Related Articles
The four-part webinar series titled "One Health Approach for Global Healthy Water" provided U.S. and Latin American perspectives to creating healthy, resilient communities by promoting and sustaining the health and well-being of humans, animals, and the environment.
The Water and Health Summit was held June 29-30 in Lincoln with the goal of improving the health of Nebraska.
The Nebraska Water Center (NWC) hosted a virtual mini-conference in August 2020 for and featuring stakeholders around the state.
Search More Articles
Search the 2021 Annual Report for more articles.
COOKIE USAGE:
The University of Nebraska System uses cookies to give you the best online experience. By clicking "I Agree" and/or continuing to use this website without adjusting your browser settings, you accept the use of cookies.