Demand for irrigation innovations
As the tech industry in Sub-Saharan Africa continues to grow, agricultural technology has not been left out. Many startups with innovative technologies and business models have been created. Some of these business innovations support smallholder farmers so they can easily access irrigation at a low cost. By responding to demand, these startups are seeking scalable, financially sustainable solutions to improve farmers' yields and wellbeing. We are studying these businesses to identify key insights about their operations and needs, to support private sector-linked solutions to small-scale irrigation development.
In March, we travelled to Uganda to learn about the irrigation ecosystem. We visited various businesses, including retailers selling irrigation equipment and entrepreneurs providing irrigation services. It was exciting to meet with Abraham Salomon, an entrepreneur using an innovative pump technology to irrigate smallholder farms.

Irrigation-as-a-service in Uganda
Abraham is the founder of Agriworks, an agtech company that provides mobile irrigation services in Mbale District in the eastern part of Uganda, where a majority of smallholders earn less than $1.50/day.1 Most of the farmers in this area are dependent on rainfall for agriculture. The rainy season usually starts in April and goes through October, while the dry season runs from November to March. Mbale is one of the driest regions in Uganda, which makes access to irrigation very important to increase yields and buffer against drought.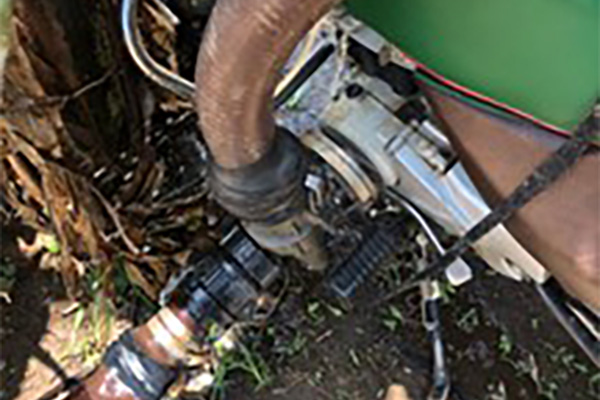 Agriworks started with a rent-to-own business model, where they provided an equipment package (a kit with motor pump and pipes) to a small group of three to five farmers to share. Farmers were paying 30% of the kit price as a down payment and paying an irrigation fee as well as maintenance and fuel. They could eventually own the equipment after a period of time. Due to disagreement between farmers, particularly regarding late payments, this model failed. Agriworks had to modify its business plan.
A motorcycle solution
Now, Agriworks provides irrigation-as-a-service to smallholder farmers using a motorcycle. They designed an adaptor plate that can connect a small water pump to be powered by a motorcycle engine. Agriworks owns the pump, pipes, and plates, but not the motorcycles. Instead, they contract with motorcycle (boda boda) drivers in the area. The drivers are in charge of transporting the pump and pipes to and from storage and the farm, as well as operating the pump. Drivers can earn more by working as irrigation service providers than by driving their regular passengers. During the wet season, when farmers are not irrigating, these boda boda drivers go back to operating their motorbikes as taxis.
The "boda boda" benefit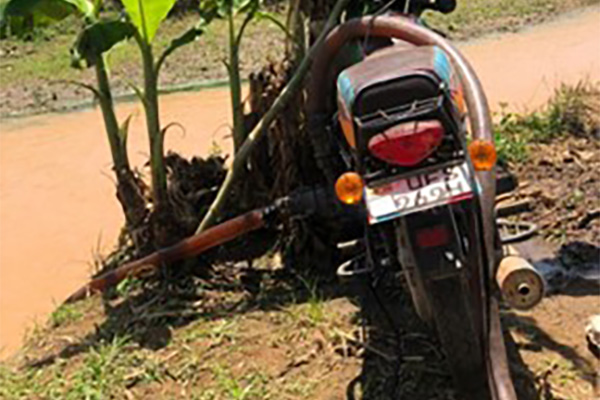 The business is efficient for farmers because they no longer have to carry heavy pumps and pipes to their fields. Purchasing, transporting, operating, fueling, and maintaining pumps are all costs and challenges for smallholders. Even farmers who could afford their own irrigation equipment still choose to hire Abraham to irrigate because the service is cost-effective and convenient. By using motorcycles to provide irrigation-as-a-service, Agriworks has reduced the costs of irrigating by allowing a farmer to pay for service hours only. Farmers pay an hourly fee for irrigation. Half of the fee goes to the motorbike driver and the remaining half goes to Agriworks. Additionally, Agriworks pumps are cheaper to run than other irrigation pumps because they are designed to be more fuel efficient.
Agriworks has two branches within the Mbale region, Elgon South and Elgon North. Each branch has its own manager whom farmers can contact for services. Managers respond quickly to irrigation requests and have long-term relationships with farmers.
Agriworks provides irrigation-as-a-service to smallholder farmers who are close to a source of water. Most of their customers are small-scale commercial farmers that produce vegetable crops like tomatoes, cabbages, sukumawiki, or green peppers, with plot sizes ranging from 0.1-0.8 hectares. Adonga, one of Agriworks' customers, is a smallholder farmer in the eastern part of Uganda who used to plant low-value crops and irrigate with a watering can. Now she has access to irrigation services that can irrigate her whole field. She grows high-value crops such as tomatoes and eggplant. Since hiring Agriworks, she has been getting higher yields that enable her to increase her income and to take care of her family. Agriworks has transformed her life. "I have many children and now I have great plans for the education of my children," Adonga told us.
During our visit, we heard many more stories of smallholder farmers who were unable to buy irrigation equipment, and for whom Agriworks created a solution with irrigation-as-a-service. Smallholder farmers now have access to a more affordable, sustainable, and efficient irrigation technology. This business has given them a chance to transition from subsistence to more profitable commercial farming. The DWFI team in Rwanda is continuing its research on innovative irrigation business models in Sub-Saharan Africa. We hope to share lessons learned from technology and business innovators to support a robust agtech entrepreneurship community. To learn more, visit waterforfood.nebraska.edu/Entrepreneurship.
---
1Poverty Probability Index, Uganda. Innovations for Poverty Action. March 2022. <povertyindex.org/country/uganda>.