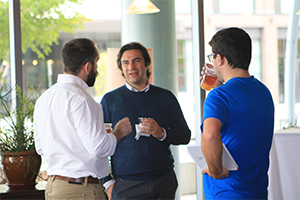 DWFI's supported students shared their insightful research on May 3 at Nebraska's Innovation Campus. Their research focused on the Institute's key areas of closing water and agricultural gaps, managing agricultural drought, enhancing high-productivity agriculture, and supporting freshwater and agriculture ecosystems and public health. DWFI is proud of their ambitious work, and it was an excellent showcase.

DWFI also hosted a panel to discuss how students can apply their knowledge once they graduate, including opportunities outside of academia. The panel included:


George Burba, Ph.D., Fellow, Science & Strategy, LI-COR Biosciences
Naisargi Dave, Master's, Environmental Scientist, EA Engineering, Science, and Technology, Inc.
Brandi Flyr, Ph.D., Hydrologist, Central Platte Natural Resources District
Nathan Rossman, Ph.D., Hydrogeologist, HDR, Inc.
A networking reception at the Mill at Nebraska Innovation Campus followed and included DWFI staff, Faculty Fellows, supported students and other partners.

Recordings of the panel discussion and student presentations can be found on DWFI's YouTube channel.

Ten new students have been approved for funding for the upcoming academic year, bringing the total to more than 40 active student support awardees on all for campuses of the University of Nebraska.

Since it was initiated in 2014, the Daugherty Water for Food Global Institute's student support program has invested over $3.14 million to support undergraduate, graduate and postdoctoral research across all four University of Nebraska campuses. In 2015 the program began requiring faculty to match institute funds one-to-one. The awards provide stipends to students working on projects that contribute to the institute's mission to have a lasting impact on achieving more food security with less pressure on scarce water resources.
Learn more about student support program