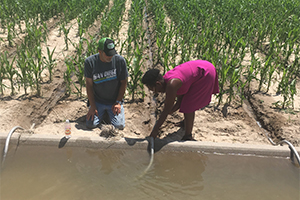 I didn't appreciate the value of water until one day when it stopped running in my hometown in Rwanda. Until then, our home always had water. From that day, whenever the water stopped, I had to walk some distance to get water. This was when I realized the challenges that people without water must go through every day, and even more so, how farmers struggle when there is not enough water to grow their crops. I am Sarah Munezero, an international graduate from the University of Nebraska-Lincoln with a Bachelor of Science in integrated science and minors in mechanized systems management and water science. I aspire to be a water resource manager and help make water use sustainable. I believe this can be accomplished by enacting feasible policies that focus on conserving water while also using the resource to increase agricultural productivity. Below I discuss several lessons I've learned about water policy through my internships with the North Platte Natural Resources District and the Daugherty Water for Food Global Institute, reflecting on water management differences between Rwanda and Nebraska.

Agriculture is the backbone of the Rwandan economy, and it contributes to a third of the country's Gross Domestic Product (GDP). Most farmers are smallholders and heavily rely on rain to water their crops. The country receives an average of 40 inches of rain annually and has a temperate, tropical highland climate. Rwandan farmers typically grow eight staple crops (bananas, plantains, cassava, beans, maize, sweet potatoes, wheat, and rice) and two cash crops (tea and coffee). The total land area is 6.5 million acres, of which 5.7 million acres is cropland. Irrigation is not very common as it requires infrastructure investment due to the hilly topography, and the costs associated with irrigation remain a challenge for farmers.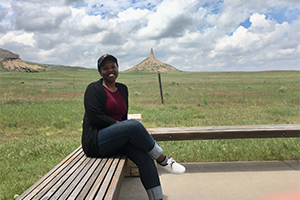 Agricultural practices are different in Nebraska, where I studied and lived during the past four years. Of the 49 million acres that make up this state, 20 million acres are used to grow crops. Precipitation varies across the state. Southeastern Nebraska receives more than 34 inches of rain per year, while the northwestern area receives less than 16 inches per year. Irrigation is vital for production in a large portion of this state; however, part of the state that receives 26 inches of rain are not often irrigated. Contrary to Rwanda, Nebraska is generally flat, making the area suitable for irrigation practices that help achieve higher production. In Nebraska, producers mainly grow corn, wheat, and soybeans. The state is the third largest producer of corn and the twelfth largest wheat producer in the United States.

As a water enthusiast, I enjoyed learning that water rules, regulations, management, and terminologies can vary significantly across different regions. Interning at the water department in the North Platte Natural Resources District helped me understand the differences in agricultural water management between Rwanda and Nebraska.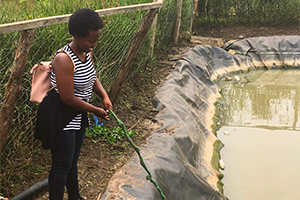 In Rwanda, rules governing water resources are set at the national level. The parliament comprises deputy chairs and the senate, where water policies and laws that serve the entire country are established. The enforcement of all policies related to water resources is the responsibility of the Rwanda Water Resources Board. The institution also oversees management of water resources, both surface water and groundwater.