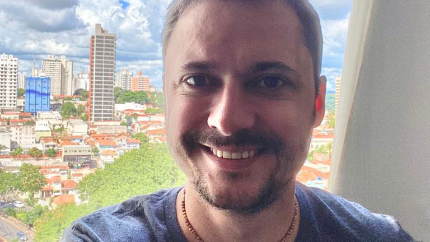 Ivo Zution Gonçalves called Lincoln, Nebraska home for more than five years. Through a grant from his native country of Brazil and a post-doctoral position at the Daugherty Water for Food Global Institute, the 35-year-old got to know Lincoln – and the United States – better than many of its citizens.

"I really miss Nebraska. Five years is not five days, you know," he confided from the 12th floor of his condo in Piracicaba, Brazil.

The city's name (pron. peer-ah-see-cah-bah) is an indigenous phrase meaning "place where the fish stops." It's also where Ivo recently settled. He began a two-year post-doctoral appointment in December 2020 with the University of São Paulo's Luiz de Queiroz College of Agriculture, better known as ESALQ. He's continuing the work he developed alongside DWFI director of research Dr. Christopher Neale on remote sensing for improved irrigation management. His project - Use of Orbital Data for a New Approach to Improve Irrigation Management in Center Pivots in Brazil – is supervised by biosystems engineering professor Dr. Fabio Ricardo Marin. Marin himself spent time in Nebraska as a Fulbright fellow working with Dr. Patricio Grassini in UNL's Agronomy and Horticulture Department. Ivo is being funded by the São Paulo Research Foundation (FAPESP).

So what is his role in the project? Simply put, he works with high-resolution heat maps that show how much a crop is sweating, scientifically known as evapotranspiration (ET). He utilizes the ALEXI model which can estimate ET at very high resolutions. The project team, including several masters and Ph.D. students whom Ivo mentors, is working to "downscale" the model to increase the resolution of satellite imagery. They're testing this model inside three Brazilian states (Bahia, Goiás and São Paulo) for soybeans, sugar cane and corn. Ultimately, more information on a plant's water and stress levels will improve water management in Brazilian agriculture.

When Ivo is not refining satellite images, he often crafts another type of image: the photograph. Ivo has roamed the globe with his Nikon and beautifully documented nature and humanity in places as disparate as Lincoln, Havana and New Delhi (Instagram: @ivo.photo).

Though he's now back home, Lincoln and the DWFI left a definitive imprint.

"I miss the institute, my routine, the people I worked with, my friends and Lincoln," he said.

The feeling, as they say, is mutual.