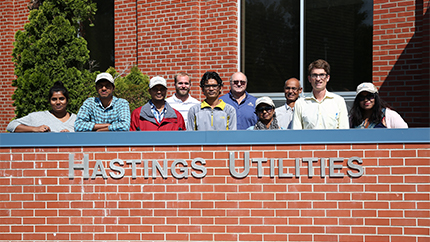 LINCOLN, Neb. — The largest class in the five-year history of the Water Advanced Research and Innovation (WARI) Fellowship will begin their research in the coming months. WARI began as a joint initiative between the University of Nebraska and several of India's top academic institutions to help build capacity to address global water quality challenges. The program will expand this year to include new partner institutions, including Texas Tech University, Purdue University and the University of Idaho.

WARI program partners include the Indian Government and its Department of Science and Technology, the Indo-U.S. Science and Technology Forum, the Nebraska Water Center (NWC) and Robert B. Daugherty Water for Food Global Institute at the University of Nebraska (DWFI). The program provides Indian students and scientists with advanced water research and mentorship opportunities, training in cutting-edge class laboratories and interdisciplinary approaches to water challenges.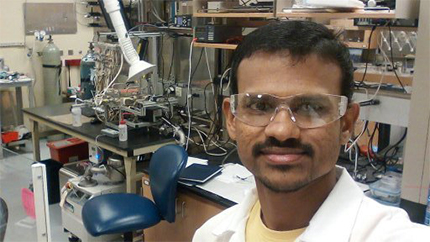 To date, 40 Indian doctoral students and early-career faculty have completed fellowships. This year's class of 15 scholars – distributed across the four partner institutions – includes 13 doctoral students (interns) and two early-career faculty (fellows) from 14 universities and research institutes across India. At the University of Nebraska-Lincoln, WARI fellows will be hosted by water science faculty from the departments of Biological Systems Engineering, Chemical Engineering, Civil Engineering, Food Science and Technology and School of Natural Resources. WARI scholars will arrive this spring and spend 3 to 12 months in the U.S.

The 2020 WARI fellowship awardees include:
Pennan Chinnasamy, assistant professor, Indian Institute of Technology – Bombay, for the project: Development of Remote Sensing-Based Novel Indicators and Decision Support Tools for Water Quality and Quantity Management in Rural India. Purdue faculty mentor: Dharmendra Saraswat, Agricultural and Biological Engineering.
Vishal Singh, scientist C, National Institute of Hydrology – Roorkee, for the project: Real Time Flood Modeling and Forecasting in Periyar River Basin, India and any Tributary of Missouri River Basin, USA using HECRTS Framework. Nebraska faculty mentor: Francisco Muñoz-Arriola, Biological Systems Engineering.
The 2020 WARI internship awardees include:
Jackina Stobel Christy, Ph.D. student, Gandhigram Rural Institute, for the project: Targeted Filtration and Degradation of Pharmaceutical Assay using Magnetic Electrospun Bio Composite Membrane Composed of Modified Nanocellulose and Chitosan. Nebraska faculty mentors: Siamak Nejati, Chemical & Biomolecular Engineering; Dan Snow, Nebraska Water Center.
Siddhant Dash, Ph.D. student, Indian Institute of Technology – Guwahati, for the project: Assessment of N and P Dynamics and Heavy Metal Contamination of Spokane River. Idaho faculty mentor: Alan Kolok, Idaho Water Resources Research Institute.
Rao Nargis Jahan, Ph.D. student, Jamia Hamdard, New Delhi, for the project: Motility, Adhesion and Antimicrobial Resistance in Wastewater Acinetobacter Isolates. Nebraska faculty mentors: Xu Li, Civil Engineering; Kurt Piepenbrink, Food Science and Technology.
Srinidhi Jha, Ph.D. student, Indian Institute of Technology – Indore, for the project: Assessment of Compound Extreme Climatic Events over India and its Implications to Water Quantity and Quality. Nebraska faculty mentor: Tirthankar Roy, Civil Engineering.
Arun Karthick, Ph.D. student, BITS – Goa, for the project: Investigation of Bimetallic Nano Zero Valent Iron Decorated with Titanium Oxide Nano Particle for Remediation of Ground Water Contaminated with Petroleum Oil. Nebraska faculty mentor: Yusong Li, Civil Engineering.
Nitin Kumar Khandelwal, Ph.D. student, IISER - Kolkata, for the project: Fundamental and Applied Geochemical Aspects of Novel Nano Based Ecofriendly Materials for Water Purification. Nebraska faculty mentors: Dan Snow, Nebraska Water Center; Xu Li, Civil Engineering.
M Raj Kumar, Ph.D. student, Indian Institute of Technology – Kharagpur, for the project: Design of Flow Regulated Drip Emitter and Automatic Micro Irrigation System. Purdue faculty mentor: Dharmendra Saraswat, Agricultural and Biological Engineering.
Preety Kumari, Ph.D. student, Indian Institute of Technology – Bombay, for the project: Functionalized Mesoporous Carbon Nanospheres Coated Thin Film Nanocomposite Membranes through Covalent Attachment to Improve Antifouling and Antibacterial Property for Wastewater Treatment Application. Nebraska faculty mentor: Siamak Nejati, Chemical & Biomolecular Engineering.
Maliqa Majid, Ph.D. student, Sher-e-Kashmir University of Agricultural Sciences & Technology of Kashmir, for the project: Design and Development of An Intelligent Vertical Hydroponic System for Growing Saffron Crocus Sativus L Under Water Stressed Conditions. Purdue faculty mentor: Suranjan Panigrahi, Electrical and Computer Engineering Technology.
Rajeev Meora, Ph.D. student, Algappa University, Karaikudi, for the project: Shotgun Metagenomic based Investigation of Emerging Pollutants in Water Sources to Establish a Link between Anthropogenic Activities and Antibiotic Resistome Pattern. Nebraska faculty mentors: Xu Li and Bruce Dvorak, Civil Engineering.
Swayam Prakash, Ph.D. student, Indian Institute of Technology – Madras, for the project: Development of Fluorescence Based Analytical Procedure for Detection and Determination of Dissolved Organic Matter with a Particular Focus on Faecal Pigment Analysis in Groundwater and Surface Water. Texas Tech mentor: Anthony Cozzolino, Chemistry and Biochemistry.
Santosh Ravichandran, Ph.D. student, Anna University, Chennai, for the project: Development of Low Cost Cotton Based Humidifier Material for Conversion of Wastewater to Freshwater using HDH Technique. Texas Tech mentor: Seshadri Ramkumar, Environmental Toxicology.
Jaladhi Sanjaykumar Trivedi, Ph.D. student, CSIR - Central Salt and Marine Chemicals Research Institute, Bhavnagar, for the project: Investigation of Bimetallic Nano Zero Valent Iron Decorated with Titanium Oxide Nano Particle for Remediation of Ground Water Contaminated with Petroleum Oil. Nebraska faculty mentor: Siamak Nejati, Chemical & Biomolecular Engineering.

"We are proud to welcome this large class to the WARI program, which is an important part of Nebraska's efforts to collaborate with India on water quality challenges," said Peter McCornick, executive director of DWFI. "Together, we're working to equip future leaders with the tools and expertise to tackle water issues that affect our ability to ensure water and food security in Nebraska and around the world."

The WARI research program addresses shared water quality challenges in the U.S. and India, including the ecological and human health impacts caused by pollutants and contaminants, groundwater quality assessment and management, novel technologies to remediate wastewater and remote sensors that monitor water quality.

For more information about WARI, visit waterforfood.nebraska.edu/our-work/education/wari-program