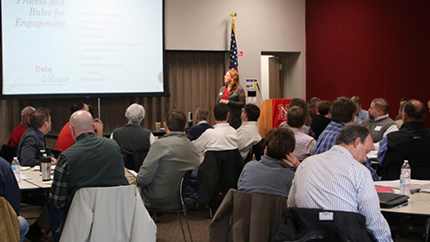 Leaders from across Nebraska looked at new ways to approach an old challenge at a Jan. 21 nitrate strategy meeting facilitated by Crystal Powers of DWFI, the Nebraska Water Center (NWC) and Nebraska Extension, and Katie Pekarek of the University of Nebraska–Lincoln (UNL) School of Natural Resources and Nebraska Extension. Participants worked to develop short-term priorities to improve nitrate-water quality issues. These include:
Build trust and promote pride in Nebraska's water Resources
Education (K-12, producer, policy makers, urban)
Policy (incentives, education, regulation)
Develop alternative markets for low-N cropping systems
Participants identified nine working groups to achieve the above objectives and committed to the 5-year goal of improving nitrate water quality issues in Nebraska. Participants broadly committed staff time, money, and other resources to working groups which will be convened in the coming months.
More than 40 participants included representatives from DWFI, NWC, 12 Natural Resources Districts, the Nebraska Association of Resources Districts, Nebraska Game & Parks, U.S. Geological Society, National Resources Conservation Service, University of Nebraska–Lincoln Administration, Nebraska Department of Environment and Energy, University of Nebraska Foundation, Shell Creek Watershed Group, GC Resolve, Nature Conservancy of Nebraska, Nebraska Sierra Club, Nebraska Department of Health and Human Services, Groundwater Foundation, and growers.