LINCOLN, Nebraska, USA, Feb. 11, 2020 – The Daugherty Water for Food Global Institute at the University of Nebraska is pleased to welcome Felicia Marcus as a new member of its board of directors.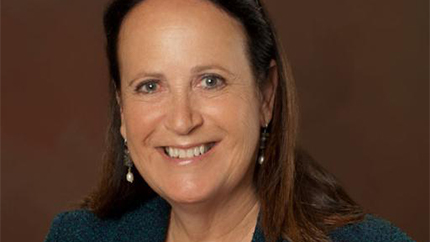 The Daugherty Water for Food Global Institute at the University of Nebraska is pleased to welcome Felicia Marcus as a new member of its board of directors. Marcus is an attorney/consultant with 35 years of experience in organizational management, policy development, program implementation, and public engagement at the federal, state, and local levels. She currently serves on the Water Policy Group, a facility for governments and international bodies to access water sector experts with direct experience in working with water policy issues within governments and international bodies.
Marcus most recently served as Chair of the State Water Resources Control Board for the State of California. The control board implements both federal and state laws regarding drinking water and water quality, as well as the state's water rights laws. It also sets statewide water quality, drinking water, and water rights policy, hears appeals of local regional board water quality decisions, decides water rights disputes, and provides financial assistance to communities to upgrade water infrastructure. During her term, the board dealt with the California's worst drought in modern history and focused on issues as diverse as integrating the drinking water program from the Department of Public Health into the Board to better serve disadvantaged communities; developing and implementing historic groundwater management legislation; upgrading the state's water rights system; setting flow and water quality objectives for the San Francisco Bay and Delta; accelerating the adoption of conservation, recycling, and storm water capture through permitting and financial assistance; and dealing with the myriad critical issues necessary to prepare the state for a more challenging water future under climate change.
Before her role with California's Water Resources Control Board, Marcus served in positions in government, the non-profit world, and the private sector. In government, Felicia served as the Regional Administrator of the U.S. EPA Region IX in the Clinton Administration where she worked extensively on the range of environmental issues under EPA's jurisdiction, including Bay-Delta issues. Prior to that, Marcus headed the Los Angeles Department of Public Works at a time when the department transitioned from garnering lawsuits to gaining national and international awards for environmental initiatives and performance. In the non-profit world, she was the Western Director for the Natural Resources Defense Council, and was the Executive VP/COO of the Trust for Public Land, among other positions.
Marcus also has extensive background as a private sector and public interest lawyer, as well as a community organizer, and is perhaps best known for her work to clean up Santa Monica Bay – most notably as a founder and general counsel to Heal the Bay. She is known as a problem solver, with an ability to bring unlikely partners to agreement while also being willing to make tough calls when necessary. She is also regarded as an adept organizational manager, elevating the profile and effectiveness of organizations through the empowerment of staff. She has received numerous awards over the years for her reasonable and productive approach to making environmental progress. Marcus has an AB in East Asian Studies from Harvard College and a JD from New York University School of Law. She is admitted to the California bar.
"We are delighted to have the benefit of Felicia's leadership and experience on our board of directors," said Peter G. McCornick, Executive Director. "Her insights into the tough water management issues in California will be an asset to us as we tackle the complex challenges to improving water and food security for Nebraska, the U.S. and around the world."
"It's a privilege to join the Daugherty Institute board and I look forward to working with the other board directors, the DWFI leadership team, and University of Nebraska administration, " said Felicia Marcus. "The goal of ensuring water and food availability for all people, while also conserving our shared environmental heritage, is a globally important mission. Water is precious and requires dedicated, knowledgeable, and thoughtful people to develop sustainable solutions that honor all those needs. I can't think of an organization better prepared to lead this space than the Daugherty Water for Food Global Institute."
###
The Robert B. Daugherty Water for Food Global Institute at the University of Nebraska was founded in 2010 to address the global challenge of achieving food security with less stress on water resources through improved water management in agricultural and food systems. The institute is committed to ensuring a water and food secure world, while maintaining the use of water for other human and environmental needs.
The University of Nebraska has invested in four interdisciplinary, system-wide institutes that leverage talent and research-based expertise from across all four University of Nebraska campuses to focus on complex state, national and international challenges. Learn more at waterforfood.nebraska.edu.