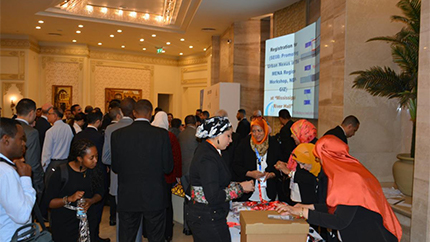 Peter G. McCornick, DWFI executive director, and Christopher Neale, DWFI director of research, attended this year's Cairo Water Week in Cairo, Egypt October 20-24. The event coincided with a World Water Council Board of Governors meeting on October 22, on which both directors sit. Neale also keynoted a technical session titled, "Water Accounting for Enhanced Water Productivity and Drought Management." His presentation showcased GloDET and other tools for managing water for high-productivity agriculture.
Cairo Water Week addressed the main theme of "Responding to Water Scarcity" through five sub-themes overarching a broad spectrum of the water scarcity issues and
sustainable development goals. These included:
Achieving SDGs under Water Security
Cooperation in Water Sector
Research and Innovation in Facing Water Security
Climate Change Impacts, Mitigation and Adaption
Non-Conventional Water Resources Use under Scarcity Conditions
The event is an opportunity for academics, scholars, and policy makers, water resources experts from all around the world to present and discuss the key issues, plans and actions related to responding to the challenges of water scarcity.