Harkamal Walia, University of Nebraska–Lincoln associate professor of agronomy and horticulture and Daugherty Water for Food Global Institute Faculty Fellow, was awarded the Heuermann Chair of Agronomy and Daugherty Water for Food Global Institute.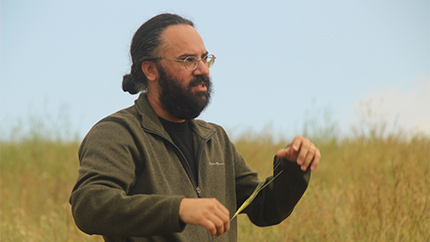 The honorary chair appointment was approved and awarded by the university Office of the Chancellor and the Institute for Agricultural and Natural Resources. Walia has been an active DWFI Faculty Fellow for the past eight years with research interests, skills and a personal vision that are especially relevant to the institute's mission of achieving a water and food secure world.
"The Department of Agronomy and Horticulture is fortunate to have Harkamal, an innovative and productive faculty member, who is forward thinking in addressing agriculture research questions highly significant to Nebraska and beyond," said Martha Mamo, department head and John E. Weaver Professor of Agronomy and Horticulture. "We are proud of his accomplishments and look forward to continued successes in his interdisciplinary work addressing drought and heat stress on important food crops."
With his roots in smallholder farming within the rice-wheat systems of rural Punjab, India, the epicenter of the Green Revolution, Walia has focused on the physiological and genetic improvement of these two key crops, which provide two-thirds of the caloric intake of the world's poor. It is also significant that Punjab is a hot-spot for agriculturally driven groundwater depletion, due in a large part to well-intended policies to address the acute food security challenges of four decades ago. The intersection of increasing agricultural productivity and sustaining water resources systems are at the heart of achieving water and food security.
Walia is a highly accomplished plant molecular physiologist developing a research program on genetic improvements for crop resilience, and enhancing the phenomics knowledge base. This includes discovering and characterizing genes from wild wheat relatives for enhanced drought tolerance and resilience in wheat, understanding the physiological and genetic basis of salt tolerance in rice, and identifying genes critical to seed development that are altered by heat and drought stress in rice and wheat. In addition to his research accomplishments, he is globally engaged, invited to speak at major events, and collaborates and advises organizations throughout the country and around the world.
"We are delighted to recognize Harkamal's expertise and initiative in developing innovative plant genetics to improve resilience. We look forward to working with Harkamal and colleagues in the Department of Agronomy and Horticulture to further catalyze areas of common interest," said Peter McCornick, Executive Director, DWFI. "As we continue to deliver on our mission, it is imperative that we focus on enhancing water use and resilience in key crop and livestock systems, especially globally important crops like rice and wheat," he added.