During the summer of 2018, we installed 73 smart energy and water meters across Nebraska and in Southwestern Wyoming. The intent of the project is to provide helpful information for growers interested in monitoring the amount of energy they use for irrigation throughout a season. The meters use a cellular modem to automatically send the collected energy data to a server where growers or DWFI staff researchers can access the data remotely. Data is then analyzed and returned to growers in a helpful, easy-to-use format to use in making irrigation decisions.
However, many cellular connections are not reliable in rural Nebraska and Wyoming. Without a cellular connection, the meter data was lost because the meters relied on the server to store data. No cell connection means no server access and no data stored. We brainstormed solutions to the cell connection problem and partnered with University of Nebraska–Lincoln's Raikes School Design Studio for help developing new hardware.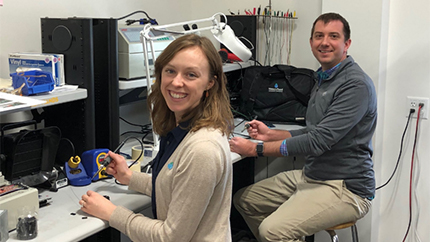 A team of Raikes School students designed an app and a device that attaches to the meters to replace the cell modems. With this new data streaming device, data collection is less automated, but much more reliable. As the meter reads energy data, the data streaming device stores the readings. When a grower visits his/her irrigation well, a wireless connection can be established between his or her phone and the data streaming device. Once the device is connected, the grower can download the stored meter data using the phone app. The app then stores the meter data until the grower can send it to the DWFI server by re-opening the app when he/she has access to a reliable connection and pushing the button to send data. This way, producers can send data through cellular data service (if they have a reliable signal from their field) or a Wi-Fi network from a home or office.
This summer, we installed a few of these new data streaming devices on previously installed meters. The flooding and rainfall have kept equipment out of the fields and center pivots turned off for much of the season, so the research has had a slow start. But, we are optimistic these devices will solve the problems with cellular connectivity.
The project was scheduled to end in December 2019 because the cellular modems will lose service after this date, but if the new devices work as expected, there will be potential to continue the project. While it is too early to give a long-term projection of the project, we are excited to test these devices in the fields. We have enjoyed the project because it has given us real experience with developing ag tech and conducting in-field trials. The challenges and successes of the project have given us a feel for the rollercoaster of true entrepreneurship.