Nepal is known for its towering Himalayan Mountains, but the country's terrain and elevations are as diverse as the variety of people who call it home. Along the southern border of Nepal is the Terai lowland region where the horizon is not marked by iconic Himalayan peaks, but mostly plains and agriculture.
On a recent trip to the Terai region, we talked with farmers, learning about their experiences using diesel-powered irrigation pumps. Remarkable similarities were found among farmers' experiences across the Western and Central Terai regions of Nepal – from the cost of renting a neighbor's pump to the preferred brands and size of pumps, and from the struggle of accessing water to the types of crops grown, everyone seemed to tell the same story. But, one village was different.
This particular village grew high-value vegetables, and lots of them. One of the farmers said he made six to seven times more profit than when he grew only rice and wheat. Still, these vegetable farms were an anomaly across the Nepal Terai. Other farmers had told us vegetables were too much work and labor too expensive. Vegetables require a lot more water, which is available only in limited supply. Some farmers weren't interested in trying new crops; they were content with the familiar ones they have always grown. So, why did one community start growing so many vegetables?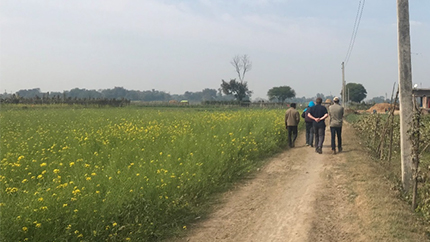 One component of the successful switch is likely the community's participation in a development project coordinated by an international nonprofit organization. As part of the project, farmers had access to high quality seeds and received training on how to properly grow them. We had noticed a lack of important training and other extension services in much of the Terai, and this community's profitable vegetable farm was an example of how knowledge sharing can bring valuable benefits.
In addition to proper training, the vegetable farmers also had access to adequate irrigation and used electric irrigation pumps in most of their fields. They were close enough to villages to power their pumps through electrical lines, a major benefit. The Nepali government offers significant subsidies for the cost of electricity used for irrigation, so electric pumps help farmers achieve substantial cost savings compared to the more widely-used diesel pumps.
The vegetable growers' fields were also located near their homes. Many other farmers in the area own fragmented land and not all of their fields are close. Vegetables require a lot of labor, so living near the fields means a farmer can visit the fields easily, often and for longer periods of time. This also avoids the added costs of hired labor.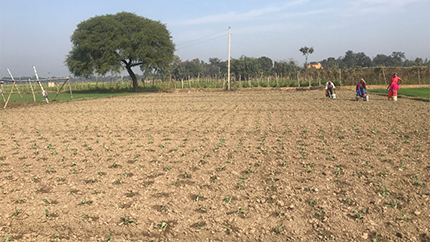 Vegetables require a lot of water, and these vegetable farmers apparently lived in an area with an ample supply. Across the Terai, aquifers are quite diverse, so the amount of water can vary greatly by location. Due to their location, these farmers benefited from an adequate supply of water to sufficiently irrigate their vegetable fields.
This successful vegetable farming community was an exception to the mostly subsistence-level of farming we saw across the rest of Nepal Terai. The vegetable farmers benefited from training services (similar to extension), inexpensive ways to access water for irrigation, adequate water supply, and close field-home proximity. Most of the other Terai farmers we spoke with had difficulties with one or more of these factors. For example, most other farmers use diesel powered irrigation pumps, which come with a certain set of challenges. The diesel pumps cost more over time because fuel costs are high. There is a lack of extension services across the region – the farmers used irrigation methods known in the industry to produce lower yields in certain crops. Some villages experienced the variability among aquifers first-hand: wells on one side of the road had good water, while wells on the other side had little to no water. These are the challenges that initially drew us to study agriculture in the Nepal Terai.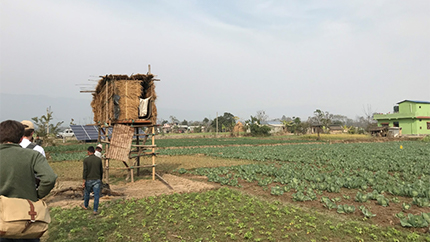 As we reflect on the trip and determine our next steps, we are encouraged to have found an example of a successful project and learn of the positive impact it has had on the community. While we also found plenty of examples showing lack of extension services, struggles with aquifer heterogeneity and irrigation pump challenges, we hope to use our knowledge and research abilities to contribute to a solution. We hope to see more success stories like the vegetable growers in the future and more farmers with reliable access to irrigation making informed decisions about their farming methods. Our team enjoyed visiting with the welcoming people of Nepal and listening to their intriguing stories, like the one about scaring off a rhinoceros to protect their crops.