The 8th General Assembly of the World Water Council (WWC) has elected Peter McCornick, executive director of the Daugherty Water for Food Global Institute, to the council's board of governors that will serve a three-year mandate until 2021.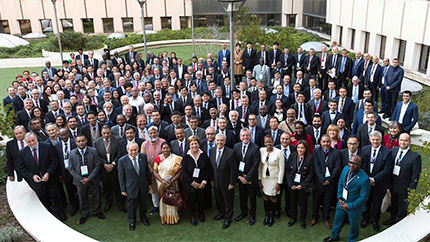 DWFI Director of Research Christopher Neale was elected as an alternate. The elections took place during the triennial General Assembly of WWC Members in Marseille, France, where more than 250 WWC governors and members from 40 countries gathered.
The board of governors of the World Water Council brings together 35 members representing the five Council colleges:
Intergovernmental institutions
Governments and Governmental Authorities
Enterprises and Facilities,
Civil Society and Water Users Associations
Professional Associations and Academics
DWFI is a member of the fifth college. The institute has actively participated in the World Water Forums held every three years in different international locations to advance water quality and sustainability. DWFI co-led the Water for Food track of the World Water Forum held in Brasilia, Brazil, in March of this year.
Learn more about the World Water Council