The famous proverb, "Give a man a fish, and you feed him for a day. Teach a man to fish, and you feed him for a lifetime" is remarkably applicable to smallholder irrigation as well. Creating lasting impacts in water and food security can be challenging. Historical examples of well-intentioned infrastructure and irrigation projects being abandoned or falling into disrepair, several years after completion, have emphasized the need for projects to be sustainable and scale-up beyond the initial funding stage. What are the most effective ways to empower a smallholder farmer to feed herself and her family for a lifetime, rather than for a day? Faculty and researchers at the University of Nebraska (NU) and the Daugherty Water for Food Global Institute (DWFI) learned some important lessons about this while working with several communities in eastern Ethiopia.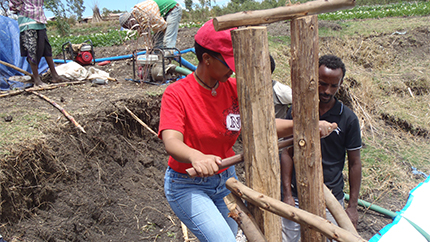 Beginning in 2010, DWFI/NU partnered with iDE, Haramaya University, and Wollo University to work in two of the most drought prone regions of Ethiopia: South Wollo and East Harerge (Figure 1). A research team, funded in part by DWFI and led by Faculty Fellow Dr. Martha Mamo and Dr. Belaineh Legesse of Haramaya University, conducted a comprehensive food production and health survey in this study area, determining that 28.8% of children in South Wollo, and 41.4% of children in East Harerge, are underweight and that 45.9% and 54.3% of children experience stunting as a result of food insecurity (Figure 2). Smallholder farmers in these drought prone areas typically pursue irrigation by excavating huge, open pits to reach groundwater (Figure 3). The dirt walls of these pits are often unstable, eroding and collapsing, posing a danger and costly expense to those collecting water. Additionally, because a single pit has multiple users, most farmers have to pump water a considerable distance, or travel to collect water. Other challenges to expanding irrigation include limited practical skills of farmers in irrigated agriculture; lack of technical know-how on maintenance of generators, pumps and electric lines required for pumping water from deep wells; shortage of agricultural inputs; limited availability of improved irrigation facilities; and rugged topography not suitable for furrow irrigation.
Given these opportunities and challenges, this project sought to implement a pilot, low-cost technology using shallow wells with a narrow diameter. Between 2012-2013, iDE drilled 38 successful wells in East Harerge and installed inexpensive treadle pumps (Figure 4a, Figure 4b). At the same time, selected community members were trained on construction and maintenance of the treadle pump (TP) system, including drilling boreholes and installing well casings (Figure 5). Training was provided by iDE experts and DWFI Faculty Fellows, with participation by Woreda Officials and Haramaya University in recruiting farmers. In the following two years, from 2013 to 2015, more than 100 new systems were constructed by DWFI and iDE trained community members. Additionally, during a preliminary impact assessment, some farmers reported doubling their crop production, with an associated increase in annual income from an estimated 40,000 birr (~$1,900US) to 90,000 birr (~$4,200US).

The significant impact of the treadle pump technology was the introduction of a special excavating technique that has now become widespread, with innovative modifications to the initial excavation method made by the communities themselves. Young entrepreneurs recognized the potential of this training, and went on to establish well drilling businesses. Local craftsmen developed new and more efficient excavating tools and augers with a serrated edge. These innovations enabled the entrepreneurs to increase well output by widening the diameter of the borehole from 1.5 to five inches (Figure 6), and drilling to 30 meters, ten meters deeper than the initial excavations. Previously, smallholder farmers had paid up to 36,000 birr (nearly one year's income) to excavate traditional water pits. Installation of new shallow well irrigation systems now costs 5,000-8,000 birr, over 75% less. This new technology made irrigation accessible to a higher number of households than the project anticipated.
As smallholder farmers' income increased, they often re-invested their earnings into expanding their irrigation systems. In two years, many farmers replaced the treadle pumps with gasoline pumps, which have a higher flow rate and are less labor intensive, allowing them to expand their irrigated acres. A female farmer, who replaced her TP with a gasoline pump, stated that "the treadle pump enabled me to compete with male farmers."
Lesson learned: Why it worked
Several factors that created the conditions for this project to successfully scale-up were identified:
The smallholder farmers had an demonstrated interest to extract water. The technology and training provided by iDE and DWFI worked to improve and enhance existing efforts.
The iDE TP technology was the 'seed,' or first step for many of the smallholder farmers to own their own irrigation equipment. Increased profits and reinvestment in their system created a virtuous circle, enabling the irrigation systems to expand. Future project work will seek to ensure groundwater is extracted at a sustainable rate.
Practical training enabled farmer-led expansion and improvements. Local entrepreneurs created additional service enterprises, such as well drilling, pump installation, tool production, and mechanical maintenance.
While every community and project is unique, these three conditions can likely be used as indicators that an irrigation development project can be sustainable.
Future Plans
The 3F team is seeking partnerships and funding to build on this work. Future work include:
Comprehensive evaluation of small scale irrigation;
Resource assessment including water resources; and
Evaluating linkage between irrigation and nutrition/human health.