Department of Biological Systems Engineering, University of Nebraska-Lincoln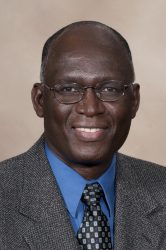 Lameck Odhiambo received a grant from the National Institute of Food and Agriculture for his project, "Reconfiguring Farmers' Behavior to Reduce Irrigation Water Use through Water Measurements and Social Norms Interventions: A Case Study in the Republican River Basin."
"The overall objective for this study in the Republican River basin is to better understand changes in farmers' behavior to reduce irrigation water use through provision of technical advice and social norms interventions," Odhiambo said.
He noted that the majority of U.S. conservation programs rely on technologies and technical advice to reduce irrigation water use.
"However, water conservation programs based on technical advice and technology alone have not always led to durable reduced water use," Odhiambo said. "In fact, more efficient technology without behavioral change can actually lead to increased water use."
Odhiambo's review of past studies suggested to him that conservation programs could achieve greater success by incorporating insights from social and behavioral sciences.
"In spite of the proven success and low cost of behavior-based conservation programs in other domains, they have not been evaluated for irrigation water conservation programs," Odhiambo said. "Hence, I teamed up with Dr. Kristen Olson [UNL associate professor in sociology] to test the relative effectiveness of behavior-based conservation programs versus technical advice and technology-based programs in irrigation water conservation."
Other collaborators in the project are Jonathan Aguilar, assistant professor at Kansas State University; Joseph Massey of the USDA-ARS in Arkansas; and Ronald Cossman, research professor at Mississippi State University.