How does water move through our society? Where does water treatment occur? How do we make sure water is clean and safe to drink? These are just some of the topics that 22 middle school students from Omaha Nation, Santee Community and Winnebago schools investigated this week as part of a science education camp, funded by the National Institutes of Health and co-hosted by the University of Nebraska Medical Center and the Daugherty Water for Food Global Institute.
"Imagine water from your front yard draining into a roadside ditch, and the water running off the road and sidewalk into that ditch. What do you think could be in that water?" DWFI project manager Lacey Bodnar asked the students. Hands went up: "dirt, trash, oil, fertilizer, bacteria from animal waste" they answered. Students became aware that the water flowing over the ground picks up pollution, including the water leaving our households, businesses, factories, and farms. They also learned how the water is kept clean through physical treatment, such as screening and settling; chemical treatment like flocculation; and biological treatment, which uses bacteria or plants to 'eat' the pollution.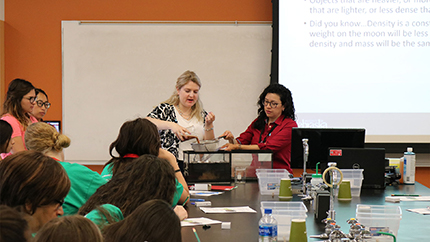 Teachers reinforced the lessons with hands-on experiments. The students created their own wastewater with common household contaminants, such as cooking oil, crushed crackers, mulch, and leaf particles. They then tried different methods to filter the water, including building sand and gravel filters. "I can't wait to go home and show my parents how to do this," said J.W. from Macy, NE after building his filter.
DWFI Water for Food Specialist Dr. Yulie Meneses and civil engineering professor Dr. Ashraf Hassan also showed the students how innovative ideas could turn a nuisance item into a beneficial solution for society. They demonstrated that algae, a natural but unwanted occurrence in water bodies, can be harnessed to clean water. Algae consumes nitrogen, phosphorus, and carbon, which are common in agricultural and urban runoff. Students created gel-filled algae beads, which remove contaminants and float on the surface of the water for easy removal. The students also used test strips to gather data on the effectiveness of the treatment in removing nitrate. "Making the algae balls was my favorite part," said one student. "I never knew you could do that."
Beyond learning about water quality and treatment, the camp had overarching goals.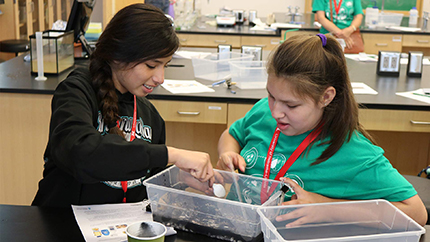 The event strives to expose students to higher education, helping them to acclimate to a college campus and dorm environment. The camp coordinator, Liliana Bronner from UNMC, states that multiple former students have pursued careers in science and technology, such as computer and software engineering. There were undoubtedly several budding scientists in this years' class. "I want to be the first in my family to come to the University of Nebraska," said Jailynn Whitebear, from Winnebago, NE. "I'm in the science academy at my school. I want to study medicine in college and become a surgeon. My role model is Susan Picotte." Dr. Picotte was a trailblazer, as the first Native American woman to become a doctor in the United States. With an excellent education, hard work, and the right opportunities, these students will make important impacts in the world.