August 25, 2017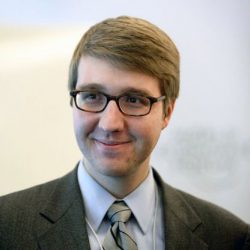 LINCOLN, Neb. — The Robert B. Daugherty Water for Food Global Institute at the University of Nebraska has gained a strong ally in its mission to ensure water and food security, welcoming Howard W. Buffett to its board of directors.
"The University of Nebraska has an opportunity to lead the way in sustainably feeding the world. It's an ambitious vision and we need the right people around the table to achieve it," said NU President and DWFI Board Chair Hank Bounds. "Howard W. Buffett is one of those people. He has broad experience in agricultural development, policy, philanthropy, international relations and academia. He is well-connected and highly regarded. He cares deeply about the mission of the Daugherty Institute and the vital role higher education plays in solving the most urgent global challenges. Howard's talents and guidance will be a great benefit to the Institute – and to the Nebraskans and people around the world we serve."
DWFI leverages the university's expertise in agricultural research and water management, expanding it through strong international partnerships with other universities, businesses, non-profit organizations and governmental agencies. Buffett will join a prestigious team of advisors on the board, including NU President Hank Bounds, Robert B. Daugherty Foundation Chair Mogens Bay and Chancellor of The City University of New York James B. Milliken. Together with more than 120 NU Faculty and Global Fellows, DWFI works through research and policy development, education and communication to enhance knowledge, build capacity and develop innovative solutions to sustainably manage water and increase food security.
"We are delighted to gain Howard's valuable input and leadership on our board of directors," said Peter G. McCornick, executive director of the DWFI. "We have ambitious goals to further advance our research and policy impacts and Howard's experience, international perspective and broad network will accelerate our success. Having been a farmer himself, Howard understands the many challenges to agricultural production and the urgent need for effective water management."
"Agriculture is one of the most important industries in the world," said Howard W. Buffett. "Ensuring global food security may sound like an impossible goal, but it can be done. The Daugherty Institute at the University of Nebraska is leading the way in work and research toward this goal. I look forward to working with the institute, university leaders, faculty and students, as well as partners across borders, to create innovative and lasting solutions."
Howard W. Buffett lectures on international food security, foreign aid, and agricultural policy in the College of Agricultural Sciences and Natural Resources at the University of Nebraska-Lincoln. He is also a lecturer in international and public affairs at Columbia University. He was previously the executive director of the Howard G. Buffett Foundation, which distributes more than $100 million annually to initiatives that improve the lives of impoverished and marginalized populations across the world. Buffett also led agriculture-based economic stabilization and redevelopment programs in Iraq and Afghanistan for the U.S. Department of Defense. For his work, he received the highest civilian honor presented by the Joint Chiefs of Staff at the request and approval of the combatant commanders. Buffett also served as a policy advisor in the White House, where he co-authored the President's cross-sector partnerships strategy, and launched the White House Energy Innovation Conference Series. Prior to that, he was a member of the 2008-2009 Presidential Transition Team, serving on the Technology, Innovation, and Government Reform Policy Working Group in the Office of the President-Elect.
Buffett earned a BS from Northwestern University and an MPA in Advanced Management and Finance from Columbia University. He is a Term Member at the Council on Foreign Relations, and has served in advisory capacities for the Aspen Institute, the Chicago Council on Global Affairs, the United Nations Office for Partnerships, Toyota North America Inc., and others. With his father, Howard G. Buffett, he co-authored the New York Times Bestseller, "40 Chances: Finding Hope in a Hungry World."
###
The Robert B. Daugherty Water for Food Global Institute at the University of Nebraska was founded in 2010 to address the global challenge of achieving food security with less stress on water resources through improved water management in agricultural and food systems. It is committed to ensuring a water and food secure world while maintaining the use of water for other human and environmental needs.
DWFI is one of four interdisciplinary, university-wide institutes that leverage talent and research-based expertise from across the University of Nebraska system to focus on complex state, national and global challenges.