This blog originally appeared on the Chicago Council on Global Affairs' Global Food for Thought Blog.
Farmers everywhere are facing the challenge of improving agricultural productivity to meet the growing demands of an increasing and wealthier population, while placing less pressure on scarce water resources. The potential to increase yields and water use efficiency, however, must be balanced against financial, technological, social and environmental constraints.

This raises a critical question: how do producers, local water managers and regional governments create targeted strategies that result in the greatest impact per investment? Identifying opportunities for effective improvement requires a clear understanding of how complex agricultural systems work. This creates a need for data collection, analytics and technologies that empower stakeholders and decision-makers to think critically, solve problems and resolve conflicts.

The Robert B. Daugherty Water for Food Global Institute (DWFI) at the University of Nebraska is developing decision support tools in the form of interactive websites, smartphone apps, computer simulations, smart meters and technological best practices or protocols for water efficiency, among others. When identifying potential projects that would benefit from data collection and analytics, three distinct contexts are important to consider:
Many data collection methods are established, but the processes to standardize, collect, store and create meaningful insights and recommendations are not in place;
Hardware advances enable data collection where it would otherwise have been cost-prohibitive or not possible; and
Software advances enable computing management variables that produce insights and recommendations not previously affordable or possible.
When identifying and planning a project to create a decision support tool, it is important for the project leader (PL) to bring together diverse groups, including local government, producers, industry and citizens, to determine their needs and opportunities. This results in an understanding of where research and investment will produce the greatest impact. If the PL builds trust with local stakeholders by responding to their needs, then those communities will be inclined to act on its research results and use the tools. In that case, if producers or local governments have high-quality data and models demonstrating cause-and-effect for management actions, they will develop effective strategies and regional guidelines.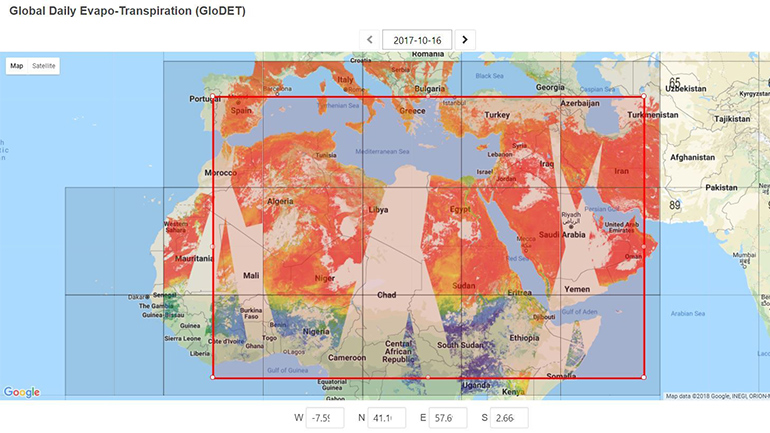 The process of identifying, planning, and executing projects to develop decision support tools is underway at the University of Nebraska. DWFI is leading efforts to maximize field-level data collection in agriculture, which has grown enormously during the last few years. In Nebraska, data are collected from farmer-produced surveys, field-level sensor networks, remote sensing and other public and private sources. Such data have the potential to revolutionize our understanding of agricultural production. However, despite significant and ongoing efforts from private sector vendors, it is still difficult for producers to gain clear insights from their data. Similarly, resource management agencies struggle to take full advantage of the data they collect to help them to achieve their regulatory goals.

DWFI is working to implement a pilot online database using existing field-level data from irrigated and rainfed crops. Nebraska faculty and students are developing a database and visualization tool that uses producer data to benchmark production efficiencies and environmental footprint. The data, which is normalized and anonymized, is shared confidentially with users on factors such as irrigation water used, nitrogen fertilizer used, yield, water use efficiency, nitrogen use efficiency and nitrogen surplus in specific fields. This highlights areas of potential improvement from peer-to-peer comparisons.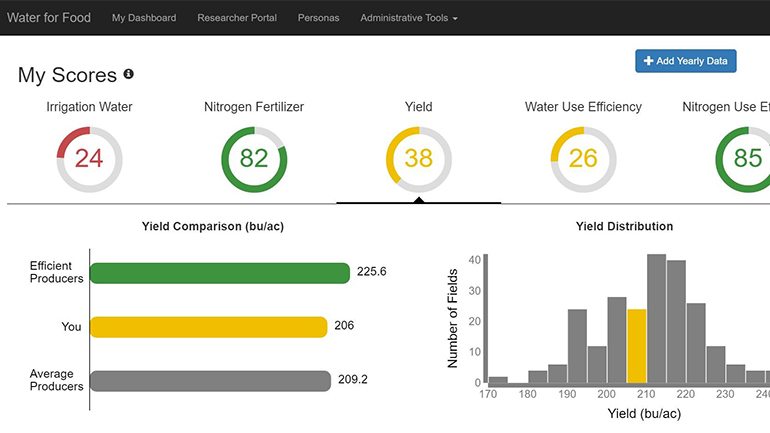 Implementing hardware advances can offer additional insights. For example, groundwater pumping for irrigated agriculture is a major component of rural energy demand. However, data is lacking that compares energy use and water use efficiency at an irrigation well level and how to best target energy efficiency and peak load management programs in irrigated agricultural settings. Preliminary work suggests that there is wide variability in energy use efficiency at a well level. Understanding the reasons for this variation will help target opportunities for energy and water conservation improvements.

DWFI is collaborating with Nebraska producers to provide real-time water and energy analysis at field level for up to 200 irrigated fields through the installation of proprietary sensor technology. The institute will use an iterative process to ensure the insights and benchmarks developed will help producers understand their groundwater pumping costs and efficiency—and how they stack up among their peers. Comparisons across a producer's own fields, as well as between peers, can reveal cost-saving strategies or highlight poor pump performance, generating immediate and quantifiable benefits.

Finally, advances in computing power and software are enabling increasingly accurate and reliable calculations of evapo-transpiration (ET) at the field level. ET (mm/day) is difficult to measure directly, and yet is essential to water balance accounting, improving field water management through irrigation scheduling and assessing crop water stress and drought. DWFI is working with national and global partners to make daily ET calculations publically available at no cost, through an interactive website: GloDET: Global Daily Evapo-Transpiration. The site will provide results of the remote sensing ALEXI two-source energy balance model, which may be downscaled to 30-meter spatial resolution. The objective is to empower decision-makers to plan for and manage drought impacts on food and water security under current and future climate conditions. It will establish state-of-the-art systems to monitor regional drought conditions, assist with drought planning and coordination activities and assist officials who are charged with relief efforts by providing "value-added" information during drought events. The site is expected to launch in fall 2018.

There is great opportunity to collect, utilize and analyze agricultural data and provide actionable insights and customized recommendations to producers and water managers. Harnessing advances in hardware, software and computing to support decision-making processes will help focus actions and investments in programs that create the greatest impact. This efficiency is essential in meeting the challenge of feeding the world's growing population while sustainably using our limited water resources.


The Robert B. Daugherty Water for Food Global Institute at the University of Nebraska was founded in 2010 to address the global challenge of achieving food security with less stress on water resources through improved water management in agricultural and food systems. It is committed to ensuring a water and food secure world while maintaining the use of water for other human and environmental needs.

DWFI is one of four interdisciplinary, university-wide institutes that leverage talent and research-based expertise from across the University of Nebraska system to focus on complex state, national and global challenges. Learn more at waterforfood.nebraska.edu.