Sofa 8050 Part2: Enhancing drought management and resilience: showcasing the MENA-RDMS from SIWI on Vimeo.
"Water, ecosystems and human development"

The Daugherty Water for Food Global Institute has a leading role in the 2018 World Water Week conference in Stockholm Sweden, one of the largest global events focusing on our most precious natural resource – water. This year, World Water Week will address the theme "Water, ecosystems and human development." In 2017, more than 3,300 individuals and around 380 convening organizations from 135 countries participated in the Week.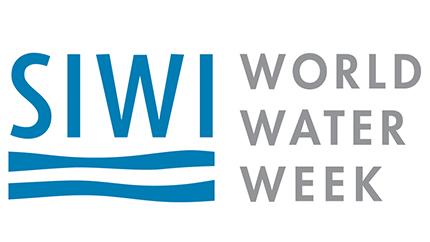 Experts, practitioners, decision-makers, business innovators and young professionals from a range of sectors and countries come to Stockholm to network, exchange ideas, foster new thinking and develop solutions to the most pressing water-related challenges of today. We believe water is key to our future prosperity, and that together, we can achieve a water wise world.
MONDAY, AUGUST 27, 2018
11:00 a.m. – 11:30 a.m.
SIWI Sofa
Enhancing drought management and resilience: showcasing the MENA-RDMS
United States Agency for International Development / International Center for Biosaline Agriculture / Robert B. Daugherty Water for Food Global Institute / National Drought Mitigation Center, University of Nebraska-Lincoln
Droughts in recent years in the Middle East-North Africa (MENA) have once again brought damage to ecosystems and natural resources, losses of life, mass migrations of people, and millions of dollars of economic devastation. Managing the impacts of drought is complex with challenges ranging from the provision of disaster relief, to responsibilities and governance across agencies to financing activities. Whilst monitoring and early warning systems are possible they require a sometimes difficult marriage between a) earth observation and dynamic modeling and b) user communities at both policy and field levels. With predicted increases in drought in the MENA region, affecting major water resource systems and crop production areas, it is important that the challenges and possibilities are explored to support water and food security initiatives. Join us for this sofa event broadcast where recent advances in drought management are highlighted. Experiences from the MENA region are shared on both the possibilities and challenges in bringing into use and acting on new sources of data and policy initiatives to support managing the impacts of impending or ongoing droughts.
3:00 p.m. – 3:30 p.m.
SIWI Sofa
Pathways to increasing farmer-led investments in sustainable agricultural water management
Robert B. Daugherty Water for Food Global Institute / African Ministers' Council on Water / International Water Management Institute
Speakers:
Christopher Neale, Director of Research, DWFI
Canisius Kaningare, Executive Secretary, AMCOW
Claudia Sadoff, Director General, IWMI
Water and agricultural experts will present the major challenges to increasing agricultural production in Africa: climate change, soil conditions, infrastructure, lack of access to resources (including financial) and civil conflict. Irrigation could increase agricultural yields as much as tenfold, yet commercial pivot operations are costly and resource intensive. The discussion will focus on case studies and research on innovative approaches to irrigation that could benefit smallholders in a variety of contexts. Solutions need to be specific to the local area contexts, yet offer scaleability to benefit more people in broader geographic regions. Scaling-up the pace of African irrigation development, and helping farmers increase their productivity and profits, requires new thinking about the means to do this. Farmers need to have greater access to information, such as how to use water more productively, as well as input and output markets.

TUESDAY, AUGUST 28, 2018
11:00 a.m. – 12:30 p.m.
NL Pillar Hall
Groundwater-based natural infrastructure solutions: The missing link to resilience?
International Water Management Institute / Robert B. Daugherty Water for Food Global Institute at the University of Nebraska / Center for Advanced Water Research / International Groundwater Resources Assessment Centre / Institute for Global Environmental Strategies

Speakers:
Alvar Closas, IWMI, International Water Management Institute
Karen Villholth, IWMI, International Water Management Institute
Nick Brozovic, DWFI, Daugherty Water for Food Global Institute
Binaya Shivakota, IGES, Institute for Global Environmental Strategies
Paul Pavelic, IWMI, International Water Management Institute
Jenny Grönwall, SIWI, Stockholm International Water Institute
Catalin Stefan, CAWR, Centre for Advanced Water Research
Arnaud Sterckx, IGRAC, International Groundwater Resources Assessment Centre
The groundwater-based natural infrastructure (GBNI) event will highlight and discuss the role and prospects of solutions that explicitly and actively consider and emphasize groundwater as a natural infrastructure. The solutions include managed aquifer (or artificial) recharge with various degrees of supportive grey infrastructure to enhance water storage underground for subsequent recovery and use and the slight derivative where storm water is purposefully tapped and diverted underground for flood protection as well as subsequent productive or environmental purposes. GBNI also encompasses various approaches that enhance treatment or protection of fresh underground water and associated ecosystems and their services, like river bank filtration, underground dams, recharge area protection, enclosures, etc. The event will discuss the spectrum of solutions, exemplify novel and innovative approaches that account for both sustainability, bankability and affordability, equity in benefits and social acceptance and engagement. The solutions will also be discussed in terms of complementarity to existing more traditional storage and treatment infrastructure solutions and how we can promote, improve and integrate the groundwater-based ones for increased resilience and inclusive water security. The event will bring in multiple and inter-disciplinary perspectives from developing and developed countries in a highly interactive forum.

4:00 p.m. – 5:30 p.m.
FH Little Theatre
Agriculture, Freshwater Quality, and Public Health: Tying it All Together
Robert B. Daugherty Water for Food Global Institute at the University of Nebraska / SRM University / Pennsylvania State University / US Department of Agriculture / Texas A&M University

Speakers:
Karrie Weber, Associate Professor, University of Nebraska-Lincoln; Faculty Fellow, Daugherty Water for Food Global Institute
Paromita Chakraborty, Associate Professor, Dept of Civil Engineering, SRM Research Institute
Clinton Williams, Lead Research Soil Scientist, ARS-USDA

Panelists (includes speakers):
Lara Fowler, Senior Lecturer, Penn State Law, Assistant Director for Outreach & Engagement,
Penn State Institutes of Energy and the Environment, Pennsylvania State University
Shad Nelson, Professor and Dean, Soil Scientist, Agronomist, Texas A&M University-Kingsville

Moderator:
Chittaranjan Ray, Director, Nebraska Water Center

With the world population projected to reach ten billion by 2050, sustainably meeting food needs is an urgent challenge for humanity. Also, a rapidly growing middle class in the developing world is accelerating the demand for water intensive crop and animal products. Thus, there is a push for intensification of agriculture, including increased use of inputs, especially in the developing world where there are productivity gaps. An important and often mismanaged by-product of intensification is the degradation of surface and groundwater quality, ecosystems and, ultimately, water sources and human health. In many important agricultural regions, fertilizer and manure derived nitrogen, including from intensive livestock production, is ubiquitous in surface runoff and aquifers; as are pesticides. Further complicating this in some areas is the presence of naturally occurring contaminants, such as arsenic in South Asia, fluoride in much of Africa, and uranium in parts of North America, where high nitrate waters are causing dissolution and mobilization. Also, where crops are irrigated by poor quality water, bioaccumulation of contaminants can be a potential health hazard. The session will include cases from India and the US on the science, management and policy, followed by a moderated panel session on the challenges and solutions.

WEDNESDAY, AUGUST 29, 2018
11:00 a.m. – 12:30 p.m.
FH 202
Asia Focus: Tackling the Water-Energy-Ecosystems-Food Nexus
International Water Management Institute / African Development Bank / RMCG / Leadership for Environment and Development / Daugherty Water for Food Global Institute

Panelists:
Luna Bharati, IWMI
Tom Panella, ADB
Louise Whiting, FAO
Rob Rendell, RMCG
Ali Tauqeer Sheikh, LEAD
Christopher Neale, DWFI
Water, energy, land and ecosystems are essential for satisfying basic human needs and development. Access to these resources and their sustainable management are the basis for smart, equitable and sustainable development.

Sector policies regarding water, energy, land and ecosystems have deep and consequential relationships. Policies from one sector often entail consequences – externalities – for the other three sectors, be on a local, national, regional or global scale.

With the world population predicted to reach 9.6 billion people by 2050, with 8.3 billion people living in developing countries. There is a recognition that the nexus relationships will add to current pressures on water, energy, food and ecosystems. At a base, we will be required to increase food production by 60% during the next 40 years in order to feed the growing world.

Meanwhile, there is little room for increasing the amount of irrigated water against competitive water demands. In addition, the risk of natural disasters such as climate change, extreme weather events, drought and flooding is increasing. Subsequently, the uncertainties of food production/supply are increasing.

Side Meetings
Additionally, DWFI leadership will be meeting with several partners during World Water Week to further discussions on joint projects and events – and cultivate topic input and prospective speakers for the 2019 Water for Food Global Conference to be held at Innovation Campus Conference Center in Lincoln, Nebraska, April 29-30.